Submission specialist Garry 'The Lion Killer' Tonan is planning on making his MMA debut soon. Many of you MMA fans might have heard Tonon's name being mentioned with the Metamoris BJJ promotion where he is 2-0 winning both matches via submission.
Tonon won the Pan Ams and Worlds in Gi and No Gi as a brown belt before earning his black belt from Tom DeBlass, a UFC veteran and current Bellator fighter. He has also won the Eddie Bravo invitational twice.
The American revealed his plans via Facebook over the weekend.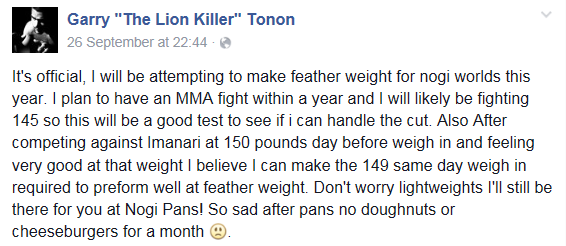 Bloody Elbow's Roy Billington wrote about Tonon's transition and found a quote from his coach Tom DeBlass regarding his star pupil's plan.
"Let's see how athletic he is in his standup. Let's see how coordinated he is with his boxing. Let's see how his wrestling translates from, you know, Jiu-Jitsu to MMA. Nowadays you have to be an athlete in MMA. The days of Jeremy Horn being successful in MMA are no longer. You have to be an athlete, OK? Garry is an athlete but, coordination, all these things make a huge, huge difference. The thing is, in MMA, I don't know what the hell it is, but you'll get some guys that aren't good at Jiu-Jitsu at all – they just find a way to slip out of submissions, and it just gets tough. So, my advice to Garry is get your standup world-class, you know? Get your standup very, very good. Or, be like Demian Maia, know what I mean?"