It will be nearly 4 years to the day since the UFC has been to Abu Dhabi. That time the promotion brought with them two title fights and a clash of legends at their.
This time they will bring with them a clash between two big heavyweights in Antonio Rodrigo Nogueira aka Big Nog and Roy Nelson aka Big Country.
The fight makes sense for the card and both fighters as neither of them are close to being in the title hunt and the fight makes sense as one of those fantasy match-ups between two popular heavyweights. This actually has all the makings to be an interesting fight and it will be good to see if Nogueira can bring out Nelson's BJJ skills, something we haven't really seen in the Octagon from they heavy-handed American.
Both fighters, surprisingly, are 37-years-old and are not on the best runs of late. Nelson is on a two fight skid and Big Nog has only fought 8 times in the past 6 years alternating between wins and losses.
This card also marks the start of a relationship between the UFC and FLASH Entertainment in the Middle East. Garry Cook, Executive Vice President and Managing Director of UFC EMEA, said: "This agreement is a major step in our strategic expansion across EMEA and, in particular, will see our audience grow dramatically across the region. There is a huge market for the UFC in the Middle East; the fans want live events and can now look forward to local tailored content in the region.
"FLASH Entertainment has worked with some of the biggest sports organisations and brands in the world and they are committed to a shared vision for delivering an unrivalled product in terms of excitement and production values to the Middle Eastern audience."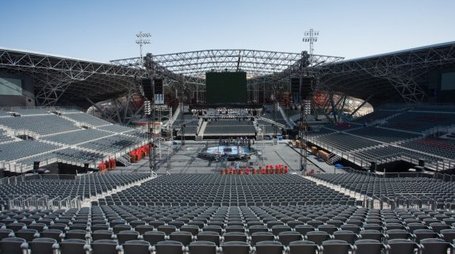 ABOUT FLASH ENTERTAINMENT
Based in Abu Dhabi, FLASH Entertainment is the region's premier live events company, with a proven track record in delivering world-class events from movie premieres and classical shows to international sports events and megastar music concerts. FLASH offers comprehensive event management solutions from concepts and designs through to coordinating every stage of production. The company is committed to providing the region with diverse entertainment programmes, grass roots creativity and stimulating the local economy and events' industry.
In just 5 years, FLASH has diversified its business portfolio developing entertainment that has seen close to two million fans through the doors. Partnering with leading international sports and entertainment organizations such as Live Nation, Cream and UFC, the company is well on its way to achieve its mission of growing from the region's premier live events company, to a globally recognized peerless entertainment organization. FLASH owns a 10% stake in UFC and manages a multi-million-dirham portfolio of assets including the du Arena and du Forum on Yas Island, Abu Dhabi