Bellator MMA missed out on a top ranked fighter in the form of Gilbert Melendez, but their Middleweight Champion Alexander Shlemenko has inked an extension to his contract with the promotion.
Bellator released a statement today confirming that the Russian will continue fighting with the worlds second biggest promotion for the foreseeable future. While the details of the contract are unknown, we do know that he will attemot to defend his middleweight crown for the third time on March 28th.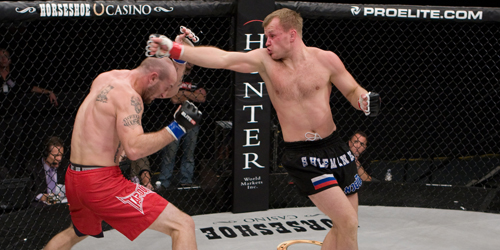 "Alexander Shlemenko has been with this organization since its infancy, and has grown into one of the most dominant champions in MMA," Bellator Chairman & CEO Bjorn Rebney said. "I can say without hesitation Alexander has been a large part of the success we have enjoyed over the last five years and as the biggest name in Russian MMA, he's been the catalyst to the largest TV deal in the history of MMA in Russia. It's an honor to have him fight in this organization. I look forward to watching his career continue inside the Bellator cage for years to come."
A successful defense of his title would mark the 50th win of his professional mixed martial arts career — an impressive feat for a fighter aged just 29. He is currently riding a twelve-fight winning streak, with seven of them inside the Bellator cage.
"Bellator has been my home for many years, and it's where I want to be," Shlemenko said. "Bjorn made me a promise and he lived up to that promise to provide me with a new deal. I have made a home here at Bellator, and I will continue to represent Russia in my efforts in the cage. I have gained millions of new fans both in the US and in Russia and around the world during my time with Bellator, and I will enjoy being Bellator's longest running champion. I will continue wearing that belt with honor during my time with Bellator, which will now be at the peak of my career."