So now we have been told who will be meeting Kimbo Slice in his return to MMA. Yes you are reading this right folks, Ken Shamrock.
Kimbo Slice (4-2 MMA) will fight Ken Shamrock (28-15-2) on 20th June under the Bellator MMA promotion.
Kimbo and Shamrock where due to fight nearly 7 years ago but that fight didn't come to fruition, but instead we get to see these two compete in a Heavyweight bout.
Since his last MMA bout Kimbo has dabbled with pro boxing going 7-0 and solidifying himself as a devastating striker.
Shamrock has been inactive since late 2010 and was scheduled to compete in a bare knuckle boxing bout in April, which according to him has been pushed back and will still take place.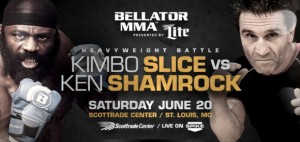 Tony's Thoughts;
I didn't think Bellator could outdo themselves with Tito Vs Bonnar but Scott Coker has certainly managed that one. Hate it or love it, you will be watching Kimbo Vs Shamrock if you are a MMA fan, boxing fan, pro wrestling fan, these two just attract a huge following. It pits striker Vs grappler and you can bet your bottom dollar that Shamrock will do all he can to get the fight to the ground as soon as physically possible. I will definitely be tuning into this one and hoping that some deal can be reached so that the UK/European fans get to watch this one live on TV.