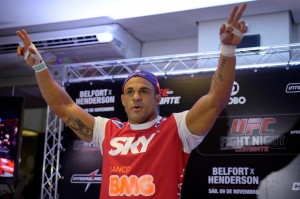 It was a night of finishes. UFC Fight Night 32 took place last night from Goiânia, Brazil, and saw nine finishes in eleven bouts; not a bad return for the Ultimate Fighting Championship. The card was much scrutinized prior to the event, but if we can take anything from the night – it was entertainment. But what's next for the winners of the main card bouts? Well, that's what we are here to discuss.
JEREMY STEPHENS
Next Opponent: Clay Guida
Jeremy Stephens was at somewhat of a crossroads in his career last year. He was riding a three fight losing streak for the first time in his career – with losses to Anthony Pettis, Donald Cerrone and Yves Edwards. He was also facing legal charges, stemming from an alleged assault case; however, these were eventually dropped. Last May, Stephens made his featherweight debut and put himself back in the win column with a decision over Estevan Payan. Last night's win was more emphatic, and it will have featherweights looking over their shoulder.
Clay Guida, also a former lightweight, would be a good test for Stephens at featherweight. The UFC don't usually match fighters coming off a loss, which Guida is, against fighters coming off a win — but this fight makes a lot of sense. Surprisingly, their paths never crossed at lightweight over their long tenure in the UFC, and the fight would probably be more exciting if it took place a few years ago – but it's still a solid fight.
RYAN LAFLARE
Next Opponent: Adlan Amagov
Ryan LaFlare had a tough fight against Santiago Ponzinibbio last night but he managed to pull out the decision in a back and forth affair. LaFlare is undefeated in his MMA career, getting his second win in the Octagon in Brazil. An interesting bout for New York native would be Adlan Amagov. Amagov has also compiled a 2-0 record in the promotion thus far, with his last win coming over TJ Waldburger last month at UFC 166.
It's clear that LaFlare's biggest strength in in his grappling. Amagov relies more toward his striking, which can be devastating. However, Amagov is a National Master of Sports in Sambo and has shown some impressive grappling abilities in the past. This could be a fun fight.
BRANDON THATCH
Next Opponent: Leonardo Santos
I've had my eye on Thatch for a while now. He's definitely a prospect in the Welterweight division, but I would like to see the UFC continue to give him solid tests – before throwing him to the wolves. A fight with a solid BJJ black-belt is something which would interest me. Thatch has shown his grappling skills, but not against someone like Leonardo Santos.
Santos is a veteran of BJJ and MMA. He won the last season of the Ultimate Fighter Brazil and has a number of medals in Brazilian Jiu Jitsu. Thatch shouldn't be thrown into a fight with someone ranked in the top 10 yet; let's see how he can do against someone who wants to drag him to the floor any chance they can.
RAFAEL CAVALCANTE
Next Opponent: Fabio Moldonado
In July, Fabio Moldonado left Team Nogueira after a dispute concerning the naming rights of the gym. Moldonado wanted to use the Team Nogueira name for his gym, but was upset when he allegedly wasn't permitted to use the name. Where this gets interesting is that apparently Rafael "Feijao" Cavalcante was allowed to use the name, for free. Moldonado made it a point to mention this fact. Is there bad blood between the two Brazilian's? Maybe, who knows? Even if there isn't: would it be an interesting fight? Yes.
CEZAR FERREIRA
Next Opponent: Lorenz Larkin
Cezar Ferreira inched past Daniel Sarafian in the original final of TUF Brazil: 1 on Saturday night. This fight was originally to take place last year, but Sarafian got injured and Ferreira took on Sergio Moraes in the finale. Ferreira won that fight and returned in August of this year with an impressive guillotine choke; however, his win over Sarafian wasn't as impressive – but a win is a win.
Lorenz Larkin is coming off win over Chris Camozzi, where he beat him up for the better-part of three rounds. A fight with Ferreira could be a fight of the night candidate. Larkin's striking is incredibly technical. Ferreira used unorthodox techniques from his capoeira roots. It could be a really fun bout.
VITOR BELFORT
Next Opponent: Anderson Silva or Chris Weidman
This one is fairly straight forward; Vitor Belfort is tearing through his recent opponents like they're not even there. Saturday might have been the most impressive one yet. Henderson isn't getting any younger, and he hasn't looked his best in his last few fights, but he has never been finished by strikes. Belfort got Henderson out of there as quick as we have seen in "Hendo's" illustrious career; an impressive accomplishment for the former heavyweight and light heavyweight champion.
There is really no other option for "The Phenom". He was considered, by the majority of people, to be the number one contender, after Anderson Silva rematches against Chris Weidman in December. This solidified that status, even though this fight didn't take place at 185 pounds.
(Pictured: Vitor Belfort)