The British Association of Mixed Martial Arts or BAMMA as its commonly known is set to return to Manchester for the first time since BAMMA 5, with BAMMA 16 on the 13th September. Following a relatively light 2013 for the promotion which was made up of only three cards, by the time BAMMA 16 is over they would have already put on four shows in 2014 with another scheduled for 6th December.
The BAMMA 16 fight card so far is only three fights deep but as the date fast approaches you can bet your bottom dollar that matchmaker Jude Samuels will be flat out arranging many more fights to boost the card. As we stand today the card consists of the following bouts which for me sell the show on their own with the prospect of more fights only giving me more reason to make the trip to Manchester.
So let's have a look at the three fights we have on at the moment.
Leon Edwards Vs Shaun Taylor for the BAMMA British Welterweight Championship. Edwards looked superb in dethroning previous Champion Wayne Murray back at BAMMA 15 and will be putting his title on the line for the first time against Shaun "The Disgrace" Taylor. Undefeated Taylor will be making his promotional debut and while there may be some uproar as to why he has been gifted a title shot in his first fight for the promotion, the Dinky Ninja proudly boasts five first round finishes in his seven fight undefeated record. The Champion Edwards has never tasted defeat and his sole loss on his record comes at the hands of a DQ loss for an illegal knee. But aside from that small blemish Edwards has looked incredibly confident in all of his fights and made the transition to the big stage of BAMMA with no problems. He has a 4-0 record with the promotion and has stopped all of his BAMMA opponents inside two rounds. This is some great match making and promises fireworks when these two young Welterweights collide.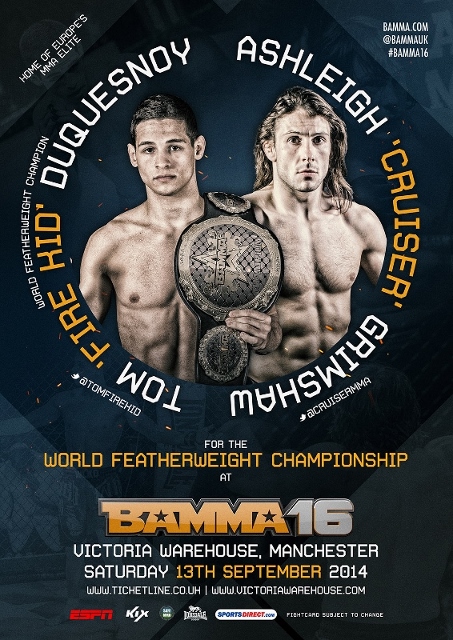 Tom DuQuesnoy Vs Ashleigh Grimshaw for the BAMMA World Featherweight Championship just makes absolute sense. It pits arguably two of the best Featherweight fighters in Europe against each other for the World Title. DuQuesnoy absolutely dominated Teddy Violet in their title fight back and BAMMA 15 and Grimshaw has been tearing through opponents with his eye firmly on the prize of the Featherweight gold. Since early 2012 Grimshaw seems to have just evolved as a martial artist and has racked up six wins on the bounce all via stoppage. The "Fire Kid" himself is on a five fight win streak with only one fight going to decision so the odds are heavily favouring a stoppage when these two collide. Grimshaw will have experience on his side but DuQuesnoy is a new breed of fighter who encapsulates all aspects of MMA. You can bet your bottom dollar that these two will not fail to entertain and regardless of the outcome the fans really will win in this one.
Paul Daley Vs Igor Fernandes headlines the card in a Welterweight clash. The last time Daley fought in Manchester for BAMMA he scored a knockout of Yuja Shirai in just one minute and forty six seconds and he will be hoping for more of the same when he steps up against Fernandes. The Brazilian Fernandes is riding a six fight win streak with all six wins coming inside of round two, but it's fair to say that his next opponent will be a huge step up for him. Daley has kept himself very active this year having fought and won four kickboxing bouts and the Nottingham based star has another one lined up three weeks after BAMMA 16. It will come as no surprise that Daley's gameplan will lean towards a stand up brawl whereas his Brazilian opponent will be doing everything in his power to avoid the dynamite in Daley's hands and get the bout to the ground. This could be the last time that we see Daley fight for BAMMA for a while as he has signed with Bellator so he will be looking to add to his ever growing highlight reel against Fernandes.
A great way to finish off a card and if the above doesn't get you excited for the show then check out this promo which BAMMA have recently released.