Its Sunday morning at just after 11am and I have a coffee in my hand and a bacon sarnie trickling with HP sauce on a plate next to my desk. And now its time to reflect on a great night last night at BAMMA 15 from the Copper Box at Stratford London.It was another great card from BAMMA last night which saw three new champions crowned, a 260lb flying knee, a german suplex which made Chris Benoit turn in his grave and Colin Fletcher coming out riding a horse (well a couple of his mates dressed in a horse outfit).
Jacek Beats Down On Brutal Carr
In the cards first fight of the night Jacek Toczydlowski dominated Benny "Brutal" Carr from the start. Jacek took down his opponent and just rained non stop elbows down onto Benny and at 1:32 of the first round Carr had eaten too many elbow sarnies and tapped out due to strikes. Jacek looked very good but we didn't get to see enough of Carr to test Jacek so will be interesting to see how he deals with fighting on the back foot. The Titan based fighter certainly wont be taking prisioners so very interested to see what he can do next time out.
Jacek Toczydlowski def Benny Carr by TKO (submission to punches) at 1:32 of round 1
Arthur Tops Woods In Battle Of The Undefeated
Well what a great scrap this was as two of the biggest UKMMA prospects locked horns. Going into this fight I really didnt want to see either man loose their undefeated streak and in a way wish that this fight was going down a bit later in their careers. But very selfishly I was absolutely honoured to get to see these guys fight from cage side. And the fight didnt dissapoint. Back and forth between both throughout the first two and even going into the third it was Arthur who was able to flip the switch and turn the notch up just enough to find a submission and eventually tap out Woods by rear naked choke, 1 minute 48 seconds into the third round. These two should definitely be on everyones watch list for the future and I think the loss for Woods will only motivate him to come back bigger, stronger and better. Whereas Arthur now has the world at his feet and I will be watching this kid very closely as he carries on his fantastic journey in the UKMMA scene. My FOTN.
Ed Arthur def Nathaniel Wood by Submission (rear naked choke) at 1:48 of round 3
Craven Stops Edwards
Andy Craven looked to be swinging from the fences from the opening horn and that plan worked as he was able to clock Edwards with an overhand right which Chuck Liddell would be proud of. After dropping Edwards Craven took his back like a lighting bolt and then sunk in a tight rear naked choke to end the fight at 2:12 of the first round.
Andy Craven def Richard Edwards by Submission (rear naked choke) at 2:12 of round 1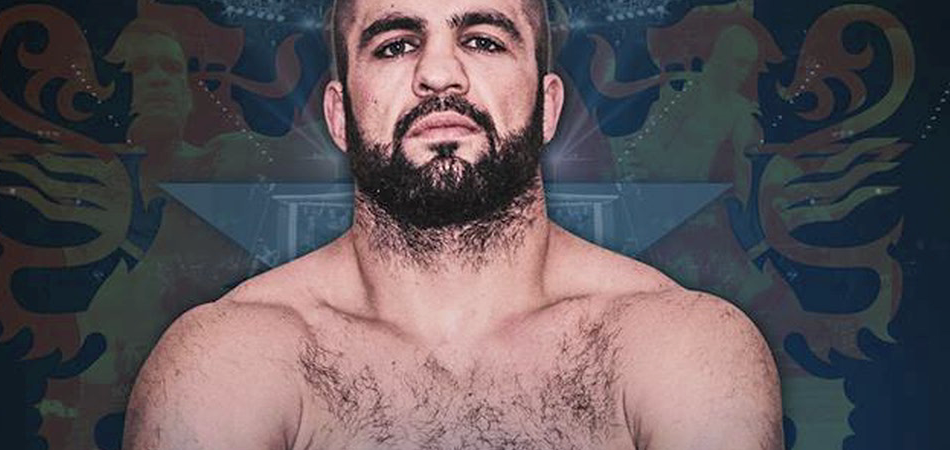 Montagnani Taps Out Mr Bag N Tag
How these guys are Welterweights is crazy as they are absolutely huge. This fight was non stop from the start with both going for the takedown and pressing for the advantage against the cage. It was Montagnani who was able to break the lock and get on top of Jones early on and during his struggle to get to his feet Jones gave up his back. The rest was history as Montagnani locked in a killer rear naked choke to take the victory. Big, big win for Montagnani and the crowd went pretty silent as he stopped the crowd favourite Jones.
Alex Montagnani def Nathan Jones by Submission (rear naked choke) at 2:43 of round 1
George Gets The Decision Over Grant
The first fight of the night that went to decision was a Lightweight bout between Jack Grant and Jefferson George. It was a very back and forth fight with a particular highlight for me being a german suplex which Grant landed which looked as though it would snap George in half. But George ploughed through and continue to score with some nice strikes. The result was a split decision win for George which to be fair was probably the right result as he just seemed a bit more active and at the end of each round I remembered more of what he done than Grant. Grant had only fought a month ago so maybe he jumped back in too early but Jack Grant is definitely a fighter to watch for the future.
Jefferson George def Jack Grant by Split Decision
Saadeh Grapples His Way Past Mahmood
A flyweight fight usually involves crazy speed and back and forth action but this one saw Rany Saadeh utilise his elite grappling skills to grind out a decision win over Mahmood. Rany took Mahmood down with relative ease and worked from the top for most of the 15 minutes. The result was definitely correct and sadly following the fight Mahmood hung up his gloves and stepped away from the sport.
Rany Saadeh def Mahmood Besharate by Unanimous Decision
Scope Gets Big Win Over Arish
This started as a classic Ali Arish fight with him circling his opponent but by no means pushing the action. Scope who had a wardrobe malfunction (trying to fight in tights but having to cut them into shorts during his entrance) tried to engage in the fight round but Arish stuck to the game plan and the boos began to ring around the Copper Box. In the second and third round Scope was the more active fighter but got clocked with a nice straight right which bloodied his nost. He hit Arish with a big leg kick in the second and wobbled away in clear pain before Arish swooped on him and took him to the ground. Scope later mentioned that he felt his foot was broken but even with the injury he was able to pick up a massive win and possibly the biggest of his career so far.
Ryan Scope def Ali Arish by Unanimous Decision
McLeman The New Middleweight Champion
Harry McLeman wakes up today as the BAMMA Lonsdale British Middleweight Champion. What a mouthful that is. McLeman was able to edge out De-Vent over the three rounds but the third round was clearly in favour of his opponent De-Vent as McLeman seemed to struggle with something in the round which left him not doing much on the ground and De-Vent being able to take advantage of positions but not doing enough to stop McLeman. Harry in my books clearly won the first two rounds but will need to step things up if he hopes to keep hold of his title belt as there are plently of Middleweights on the BAMMA roster who will be gunning for the newly crowned champion. McLeman relies on his strong wrestling but certainly has some scope to improve his striking both offensively and defensively and im sure the champion will be back to the gym tomorrow and tightening up his arsenal.
Harry McLeman def Andy De-Vent by Unanimous Decision
Duquesnoy Wins The War Of The French Flyweights
Tom Fire Kid Duquesnoy is a hell of a fighter. He absolutely dominated his opponent Teddy Violet for the entirety of their World Featherweight Title Fight. He won in the striking, grappling, ground game and pretty much everywhere the fight went. Compared to the earlier Flyweight fight of the evening this one was a thousand miles apart in terms of speed and pace with Duquesnoy being able to sink in a slick Triangle choke in the second round to become the new World Featherweight Champion. Watch this kid for sure, he is pretty amazing!
Tom Duquesnoy def Teddy Violet by Submission (triangle choke) at 1:29 of round 2
Freakshow Grinds Out Game Hervey
Colin Fletcher entered this fight on a horse. That guy loves entertaining. Well it wasnt actually a horse but two of his mates dressed as a horse which Fletcher rode to the cage. But aside from the horsing around on the way out the fight was very closely competed. Hervey and Fletcher put on a great back and forth slugfest from the start to the finish of the fight. The biggest WOW moment of the fight was about 10 seconds from the end of the second round when Hervey caught Fletcher with some stiff strikes with had the Freakshow on Wobbly Street and had there been 30 seconds more of the round it could of ended very differently. Fletcher was able to ride the storm and throughout the fight was able to utilise his huge reach advantage and gangly legs to land more significant strikes and pick up the split decision which his career very much needed.
Colin Fletcher def Tony Hervey by Split Decision
Edwards Takes Murrie's Welterweight Crown
It was the first title defence for Wayne Murrie and unfortunately for him his last as Leon Rocky Edwards was all over the former champion from the start. After the inital clinch Edwards was able to take advantage of Murrie on the ground and some wriggling to try and defend from Murrie turned out to be his downfall as Edwards took his back quicker than lightening and sunk in a rear naked choke. The tap followed and an elated Edwards jumped on top of the cage to face his huge following in the arena and cheers of UTC rung out throughout the copperbox. Your new BAMMA Lonsdale British Welterweight Champion, Leon "Rocky" Edwards.
Leon Edwards def Wayne Murrie by Submission (rear naked choke) at 3:13 of round 1
Gzim Smashes Through Strongman Thompson
Now this fight was just bananas. Simply bananas. In just 18 seconds Gzim went from unkown to absolute Heavyweight killer by submitting Thompson who had no idea what happened after the bell rung. Selmani sprinted at his opponent as soon as the ref allowed him and came flying through the air with a flying knee which was Carlos Condit esque. The knee landed flush on the chin of Thompson (who claimed later it hit his head) and sent the former strongman crumpling into the cage with Selmani swarming over his wounded opponent and then grabbing his opponents thick neck and taking a squeeze on it. Thompson submitted at only 18 seconds of the fight and Selmani let out an almighty roar which rung throughout the whole of Stratford and just shocked the whole of the crowd. Thompson eventually returned to his feet but really wasnt with it in his post fight interview with Frank Trigg and seemed to feel like he was robbed but there was no deyning that Selmani had his number. Gzim is a beast and lets see who BAMMA are able to get in next to fight this monster.
Gzim Selmani def Oli Thompson by Technical Decision (gullotine choke) at 0:18 of round 1
All in all a great night at BAMMA once again and many thanks to all who where involved in making it a great show. The fighters all fought their hearts out at the Copper Box and I look forward to seeing the three newly crowned champions make their first defences of their titles. Elsewhere there are plently of fighters who suffered losses last night and I am particularly interested to see how they bounce back in the face of adversity. Great night, great venue and great fights!