Alan Omer (18-3) will make his UFC debut this weekend in Abu Dhabi and in doing so will make history as the first Iraqi/Kurdish fighter in the UFC. He won't have an easy fight as he takes on former Cage Warriors champion Jim Alers (12-1). Despite being just 25-years-old he has over 20 fights to his name and has, like most mixed martial artists, endured a long hard road to the Octagon. I recently had a chance to speak with Omer and ask him some questions about his past, his upcoming fight and what the future may hold for the talented youngster .
Alan Murphy- Firstly, how does a young man from Iraq get into MMA?
Alan Omer- A friend of mine took me to the gym to train when I was seventeen. That was already in Stuttgart, Germany. My parents moved there when I was four. I did my first fight and I was hooked immediately!
What is the MMA scene like in Iraq and is helping the sport grow something that is on the agenda for you?
To be honest with you, I don't really know. I'm going to the Kurdistan region of Iraq a few times a year to visit my relatives, but I haven't gotten into all that much contact with the local martial arts scene.
I am absolutely positive there are a lot of major talents out there. Kurdistan is a warrior nation! I hope that I can inspire other young Kurds to work hard and follow their dreams. If that happens to become a UFC fighter, then we may see more of my compatriots in the Octagon soon!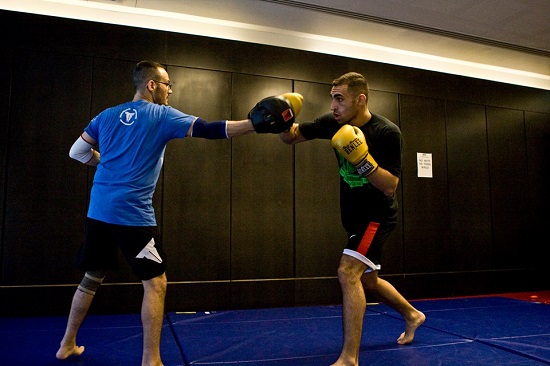 You are less than a week out from your UFC debut and making history of being the first Iraqi/Kurdish fighter in the Octagon, does this bring any pressure or is it something that is inspiring you?
I don't feel any pressure, quite the contrary, I'm so happy the moment that I've been working so hard for all these years is finally there. Getting to debut in Abu Dhabi, just on the other side of the Persian Gulf from where I was born is giving me an extra boost. I'm so motivated, I can't wait to throw down!
In February earlier this year you competed for the first time since December 2011. Why the long break?
Here's the abbreviated version: Suffered an injury. Received a wrong diagnosis and mistreatment from the doctors. Wasted a lot of time. Aggravated the injury. Had to get surgery. Had to go through rehab.
I used the time to finish my studies at Stuttgart University. Wanted to make extra sure I was ready to come back, so I went to the U.S. for a full camp to see where I was at before getting back into the cage.
Because of the long layoff did signing to the UFC come as a surprise.
A little bit. My manager did give me a heads-up that he was in talks with them before my comeback fight, but I didn't think it could happen that quickly. When he called me to tell I could debut in Abu Dhabi, I was brimming with joy! Fighting, let alone in the UFC, seemed so far away when I was out injured, that I felt a really a deep sense of achievement, having gone through the tedious rehab and regaining my old strength and shape. Those two years away from the game have made me even hungrier!
You have a strong connection with Germany. Talk a little about that.
I consider myself a German Kurd. I spent the majority of my life here in Germany. I like to say that I unite the best of both worlds – the sincerity, tirelessness and perseverance of the Kurdish people as well as the typical German virtues like discipline, diligence and courage. My goal is to make the German and the Kurdish fans proud by fighting hard and giving everything I've got.
Are you secretly hoping to make an appearance on the UFC Berlin card?
I've thought about that, but the chances are not very high. The fight card for Berlin is complete and I have my fight in Abu Dhabi. Now if I can end my fight quickly and come out unscathed, I might ask Sean Shelby to find me a fight in Berlin as well. But I don't want to get ahead of myself. That would be incredibly unfair towards Jim Alers who will be the toughest test of my career and who deserves my full attention.
What are your thoughts of your opponent Jim Alers?
Jim is a good fighter, who, like me has patiently waited for his opportunity to show his skills in the UFC. He did a good job cleaning out the Cage Warriors featherweight division and gained a lot of valuable international experience doing so. Style-wise, he prefers to fight on the ground. He's got good sweeps and guard passes. He likes to play from top position. He's doing the fundamentals right. Still I've seen a few holes in his game that I'm trying to exploit. If Jim comes to fight, this should be a fun scrap!
Both of you are known for your submissions. Who do you think has the better ground game and why?
I'm not competing against Jim in a jiu-jitsu match. I'm not looking to pass his guard or score points for a sweep. I'm looking to punch him in the face, knee him in the ribcage, put a hurtin' on the brother!
Thanks very much for your time Alan, all the best this weekend.
Thanks for the interest, Alan! I'd like to use the opportunity to thank my sponsors Booster Fight Gear, Groundandpound.de, Ink Station, PowerBody, Rockwell Watches and Tapout Middle East, my peeps over at Stallion Cage, Planet Eater and AFS Athletik Center for getting me ready; my parents for having so much patience with me and my friends as well as the fine folks over at Control Master Management for believing in me when nobody else would. Thank you, could not do this without all of your constant support!!!
All images courtesy of Alan Omer's official facebook page. Also you can follow him on twitter @AlanOmerMMA.