One of Ireland's best amateur MMA shows, Rumble in Rush, has their first event of 2015 this weekend. Some of Ireland best and brightest amateur prospects are in action. Most notable among them are Stephen Burke (C-Mac), Alex Yankov (DCU), and Kyle Comerford (Kilkenny), to name just a few.
The main event features the returning Tadhg Dixon. The Legends MMA fighter is returning from a career threatening injury similar to the one suffered by Brock Lesnar. We spoke to Dixon regarding the illness and his return to action.
"It was an illness called Meckel's Diverticulum, a variant of what Brock Lesnar had, but unfortunately mine was a worst case scenario requiring its removal along with 10 inches of my small intestine," Dixon revealed. "The road back was one of the hardest times I've gone through, but It also gave me a bit o a break both mentally and physically as all I could do was rest and deal with the pain and stick to a diet of yogurt and eggs for the first 6 weeks."
They say 'what doesn't kill you makes you stronger' and it is clear that the whole experience has only affected the welterweight in a positive way.
"Yeah I think I am mentally strong, I think that's one of the biggest things I can draw from the whole experience. Something my coach told me a long time before this happened was, 'Sometimes you have to go through being your weakest, to become your strongest' and I think thats the case here."
Dixon faces a tough task this weekend in the very well-rounded Rush FA product Aaron Skelly and despite fighting on enemy territory seems to be excited by the challenge at hand.
"The Rumble is one of my favorite show's in the country because of two main things, you always get really well matched exciting fights between the best up and coming ammie fighters in the country, and the other is the atmosphere which is the best in the country.
"I like Aaron (Skelly) as a fighter and I think he's a well-rounded guy with good cardio. I've seen plenty of his fights as we've been matched many times but it hasn't happened until now. I think he's most dangerous on his feet, but at the same time I think my range and unpredictability will give me an advantage."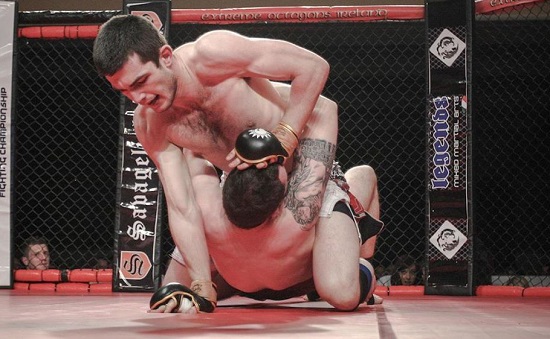 Dixon's coach, Stefan Moriarty, spoke of how great it is having him back in the gym and is looking forward to a busy year for Dixon and all the other Legends MMA fighters.
"Yeah it is great having Tadhg back in the gym. He is one of our senior members and more experienced fighters. I am hoping he, and the rest of the guys, get to showcase their abilities this weekend. It's great getting the lads back on the circuit and eager to start getting the wins on the road. I am looking for everyone to be even more active on the MMA circuit for 2015."
Rumble in Rush 11 takes place this Saturday in St. Maurs GAA Club, Rush, Co. Dublin.
Fight Card: All Amateur Fights
WW: Aaron Skelly (Rush FA) vs. Tadhg Dixon (Legends)
LW: Stephen Burke (C-MAC) vs. Danny Hall (Primal)
FW: Ian Molphy (Malahide) vs. Alex Yankov (DCU)
BW: Viktor Aleksejev (Rush) vs. Paul Barrett (Team Ryano)
BW: Paul Aylmer (Trials) vs. Dean Knight (Legends)
LW: Sam Slater (SBG) vs. Eric Nolan (Team Ryano)
FlyW: Daryl Clarke (No Fear) vs. Kyle Comerford (Kilkenny)
FW: Alex o Sullivan (C-MAC) vs. Damien Sneyd (Strange Wolves)
FW: Dermot Byrne (Rush FA) vs. Wayne Tansey (Legends)
FW: Patrick Brazil (Malahide) vs. Gearoid McDonagh (Strange Wolves)
Teen BW: Kenan Johnson (Drogheda) vs. Joe Mooney (Ryoshin)