This past weekend was jam-packed full of highlight reel KO's ranging from flying knees to nose-breaking punches. So here is a list of some of the weekends must-see knockouts from around the globe.
5. Pat Barry made a successful return to kickboxing at a local show in Richmond, Virginia. After using his legs to break down doors on Thursday evening he used his fists to win the fight on Saturday night.

4. It is one of the risks of shooting in for a takedown and it sure ain't fun. Derek Anderson called upon his muscle reflexes to knock Brandon Girtz out cold at Bellator 113 on Friday night.

3. Nicolas Dalby captured the Cage Warriors welterweight in style and introduced himself to the world as one to watch with his perfectly placed head kick KO of Sergei Churilov in Denmark on Saturday evening.

2. Dan Henderson got his first win since 2011 and, unfortunately for Shogun, it was a nose-shattering KO that got the 43-year-old the 'W'.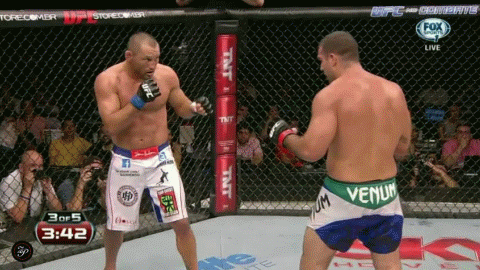 1. Don't know Godofredo Castro? That's ok, you will remember him now. The Brazilian scored the 'KO of the Night' with a spectacular flying knee knockout over debutant Noad Lahat.