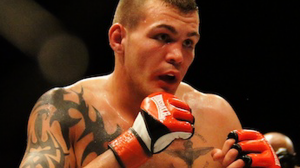 How well do you know Jack Marshman, not that well, that's ok WHOA! TV's Emma Bramford recently caught up with "The Hammer" so let's get you aquainted.
EB: We recently got to see you fight in Doncaster, unfortunately the decision did not go your way; firstly looking back did you personally feel that was the right decision? And secondly how was it to be fighting in an outside stadium in our unpredictable British weather?
JM:The decision was definitely a right decision; he won the rounds with his wrestling.  I went into the fight thinking he was coming to stand and I was coming to stand, as soon as I landed a straight right on him in the first round and put him down he went for the takedowns for the rest of the rounds, which fair enough he played the game really well I thought, he definitely took the decision, but it's the type of loss I'd definitely like to avenge because I think my wrestling is much better than I showed.  As for fighting outside, I didn't know if the fight was going to go ahead, two hours before we was told it was going to rain and I wouldn't of gone out there in the rain to be honest with you, because there was too much at stake as there was no cover for the cage, so you could imagine what would off happened if it had rained, there was no fighter safety with no cover for the cage so it spoilt the show a little bit for me.
EB: You're returning to BAMMA 13 on September 14th to face Ion Pascu, a Romanian fighter who has recently fought on UCMMA 33 and UWC 23, do you know much about Ion?
JM: I know a little bit about him, I know he is from a kickboxing background, he is from Valentino Petrescu gym which is predominantly stand up fighters, I've seen a couple of bits of him on video, I've not studied him too much, I'm just going to do what I'm going to do, not what he's going to do, I know his record, he's got some wins against some guys that are not really rated, and some losses against some really good guys, so a guy like that is hard to judge really, because he's lost too good guys, but been beaten too good guys, so you don't really know where he is at level wise, but I'm confident I will be a bit too much for him.
EB: It is safe to say that you are a BAMMA fan favourite, having appeared on BAMMA since show 7 through to 11 and now back at 13, what can the fans expect from you this time around after the great performance at BAMMA 11, how do you top that?
JM: I've had a hard time fighting in Birmingham, the Noon fight was Birmingham, I won but I got beat up pretty bad, Watson and Professor X both were real hard fights and I did not come away with those decisions, but I have always had a good scrap there, I have been the distance there, I think you will see the same again but with me definitely coming out on top like it was against Noon.
EB: You train out of arguably one of the best MMA gyms to come out of the valleys in South Wales, Tillery Combat, owned and run by Richard 'Shaky' Shore, what do you think makes the gym so respected and having high calibre of fighters such as yourself come out of the gym?
JM: We come from a tough area in Abertillery,  high in drugs crime, general crime and no jobs , it seems that naturally it generates tougher fighters, as you are brought up tougher; like me and Martin McDonough used to be nightmares , we always used to be in trouble with the police and if it was not for Shaky, he was the one that got us out of all of that, same as a lot of the boys, same as all the young ones coming through now, the way people are brought up where we are, are tough, so when they jump up into the gym they've been fighting since they were kids, so they just learn how to do it properly.  I think what sells the gym is the way Shaky trains people, he gets you mentally prepared and it's like a big family at the gym and that's on a serious note, we all get along so well it's such a laugh and that's what I think makes better fighters, we got a good team behind us, it's not just one individual fighter, it's a full team every time we go out.
EB: Is it getting any easier for you fitting in your full time day job as a serving paratrooper in the armed forces, and the training needed for a full fight camp when a fight is upon you?
JM: Recently I have moved back to Wales due to my regiment giving me time off, 3 paras give me a lot of time off now, all I have to do is some bits and bobs at work, as long as I'm representing them and I'm heading to where they want me to be I'm keeping them happy, and I'm training full time so I'm in the best place I've ever really been because I'm training full time , fighting regular; I've had 3 fights in the last 4months, and I'm hoping to get another 2 in before the end of the year, and next year I will fight every month if I can, as far as fitting in with my job for the next 2years at least I'm on to a winner as I'm in the best place I could ever be really.
EB: How do you feel the weight management is going now? Do you feel you got the right mix of the weight cut spot on or is there still some tweaking to make things go a bit more smoothly for you? (In reference to not making weight in Dec 2012 and having a hard weight cut for Askham fight).
JM: I always make the weight cut hard for myself towards the end because I like to cut quite last minute,  but I make Middleweight quite easy really, the only time I ever missed weight was the BAMMA fight, to be honest, the it was to do with logistics involved, I turned up to the pre-weigh in 5mins late, and they would not let me step on the scales, and I thought I was on weight, then I had to go to the actual weigh in, I came in  1lb over, being in Wembley they gave me a postcode of a gym to go to, so I could cut the weight, bearing in mind they only give you 1 hour and the gym was 20 mins away I would not of made it there and back in time to be honest with you, so I pulled the car over and started running round the streets to lose the weight, and that is the only time I have missed weight not through anyone's fault other than mine, I should have been earlier to check the official scales but I thought I was on weight and I felt comfortable;  so definitely there will be a drop to Welterweight on the cards in the future, not this year more than likely next year I will be looking at doing that.
EB: Is there anything new in this training camp you have been working on, or is it just improving on everything that there is to improve on?
JM: Just improving,  I've been working on so much more wrestling, from my takedown defence, if people are going to be happy to take me down and grind out a win and not actually really truly fight me, why shouldn't I actually do it, so if I look to put someone on their back why shouldn't I, but to be honest I don't think I could ever bring myself to sit there and not try and finish a fight, that's not what I am about, that's not why I do this game; it's to fight and to see who is the best fighter, not who can give the best 'cuddles'!
EB: Anyone you would like to Thank?
JM: All my sponsors, Icon Nutrition, Top Ten, British Military Martial Arts, Vibram, Impact LPA, The Railway Inn, My coaches, Richard Shore, all the boys at Tillery Combat, Martin McDonough, Kris Edwards, Owen Parry, everyone that helps me get ready for my fights.
Quick Questions
If you could change one rule in MMA what would it be?
You could Tickle
Favourite food?
Pizza
If you held a dinner party and invited 3 guests past or present, who would it be and why?
The Banker from Deal or No Deal as he seems like a Top bloke, Gordon Ramsey so he can cook and Frankie Boyle because he is awesome.