This Saturday night Will Fleury (6-0) will make the first defence of his Ryoshin FC Amateur Middleweight title in the main event of RFC 7 against Next Gen NI's Lee Balmer.
Fleury has been living in London for the past while and the change of scenery has been a welcomed challenge as the touted prospect sought out to improve his game and train in the renowned London Shootfighters' gym.
"I moved to London with my girlfriend last year because it was where we could both get work with our degrees. But for me the main reason to leave was to see what it was like to train with high level pros in a top gym and London Shootfighters is certainly that. The level of coaching and MMA experience there is unparalleled anywhere in Europe. As a result of training there my game has progressed massively. The only downside is that the cost of living in London means I have to work full time at the and can only train in the evenings."
Living and training in London meant that Fleury had the chance to compete on 'Cage Rage' Dave's WCMMA show last month. He defeated his opponent Dawid Panfil with a second round submission, an overall experience relished by the Cork native.
"It was a very positive experience. My opponent had been highly touted I dominated from the start and finished the fight in the second round. It was a nice way to get my foot in the door on the English scene. The show was very well run and Dave is a lot more chilled out when there's no cameras on."
Also amongst his experiences thus far in his MMA career has been a 4-man-1-night tourney and it was here where he captured the middleweight title.
"It was a fun night. Thankfully I finished my first fight early enough and that put me in plunder mode for the rest of the night. I could rest for the second fight and I ended up getting the belt. So I really enjoyed the whole experience."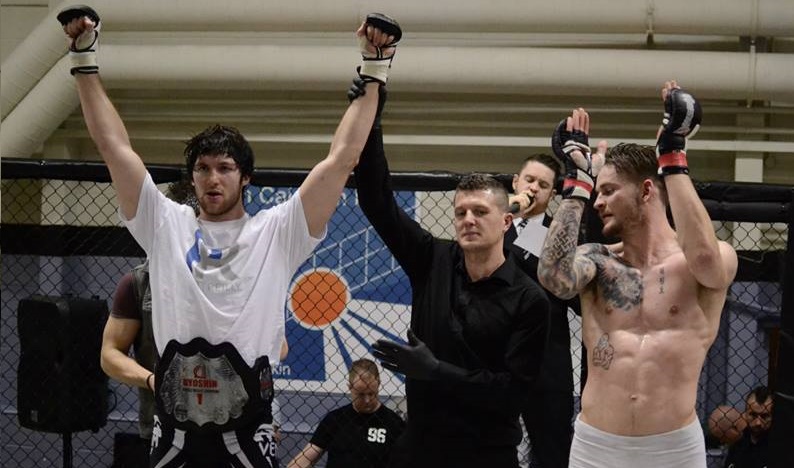 As I mentioned before, Fleury will be defending his title against Lee Balmer but this isn't the first time the pair were matched. They were scheduled fight during the Irish team trials for the World Championships last year but injury forced him out.
"I was supposed to fight Lee to go to Las Vegas and compete in the amateur world championships last year but that never happened because I tore my MCL 10 days before the fight. That was a though time! I felt I could have done very well in that tournament."
Lee Balmer said via the Ryoshin facebook page that this will be his best performance yet and that he will win the title. Fleury's response to that was simply "lets see what happens when we're in the cage!"
It also seems that Irish MMA could have another professional fighter join it's ranks very soon as Fleury stated that would like to turn pro this summer. This means that the fight this Saturday night could be his last as an amateur.
Ryoshin FC 7 takes place from the Roadstone Sports Club, Dublin 22 this Saturday night.