Having allowed time for the dust to settle from Saturday night I have now had time to reflect on Cage Warriors 74 and put my thoughts from the show into some context. So without further ado here is what we learned from Cage Warriors 74.
Dalby is the real deal
There was some scepticism around Cage Warriors giving Nicolas Dalby the title shot at Cage Warriors 66 in his debut for the promotion but a spectacular knockout win put a stop to any of those critics. And then Saturday night, Dalby truly solidified himself as the best Welterweight on the Cage Warriors roster. A very game Mohsen Bahari came out full force in the first round and put it to the Champ, and Dalby responded with a true martial arts performance. There was awesome wrestling, great control on the ground and striking clinic from the Champ on his way to a unanimous decision win over the Bahari. It's sometimes said that fighters who win titles are not Champions until they defend their belt and following that performance, Dalby can definitely be classed as a Champion!
Cage Warriors have a 155lb predicament, but a good one
Well the card was heavy with Lightweight bouts and they definitely did not fail to please. First up was Saul Rogers Vs Mick Sinclair which started very heated with the pair squaring up to each other before the bell, but it was Roger's who dominated the fight with a sublime wrestling performance outpointing Sinclair 30-27 across the board.
The second Lightweight bout of the evening featured Sean Carter and Tim Wilde and by god this one was an absolute war. Wilde came out like a race horse and continued to put the pressure on Carter during the first round and scored a huge takedown before the bell. The second round featured much of the same with both guys swinging with everything they had before the fight hit the mat and Carter was able to showcase his slick jiu jitsu on the way to a submission win. The first loss of his career for Wilde but in my eyes it will only make the young prospect come back better next time, which is scary for anyone in that division.
The third and final Lightweight bout on the card was between Joseph Duffy and Julien Boussuge and I would be shocked if you haven't seen the end of this one. Duffy swarmed Boussuge right off the bell and within 36 seconds landed a knee right down the middle which sent Boussuge crashing to the mat, followed by a few uncomfortable minutes waiting for Boussuge to regain his senses. The win was the highlight reel win that Duffy was looking for to help further cement himself as one of the top Lightweights in the promotion. So now Cage Warriors find themselves with a number of lightweight's chomping at the bit for a title shot, but it's a nice position to be in and will leave the matchmaking guru, Ian Dean with some tough choices to make in the coming weeks.
Drop outs not only effect fighters
Something which really stood out to me was just how disappointed the Cage Warriors crew seemed about the number of drop outs this card had suffered. Arnold Allen's opponent pulled out and no replacement could be sourced, Philip Mulpeter dropped out of the bout with Tom Breese and a day before the event John Maguire was forced out of his fight against Brad Wheeler. While obviously first and foremost it's a big disappointment for the respective fighters if their opponents are forced out of fights the promotion also suffers and sometimes this isn't recognised by fans and media alike. Whilst the show went ahead with some superb fights you couldn't help but feel sorry for the crew who had worked so hard to put together a card which was plagued with injuries.
Nathaniel Wood impresses on debut
It may have ended in a horrific injury for Steve McCombe but before "that kick", promotional newcomer Wood looked very impressive in his performance. It was a tough fight for Wood's to take on short notice given McCombe's experience in the cage but the youngster showed an air of maturity and really took to the big stage without any jitters. Excited to see who Wood's gets matched up with next and hoping McCombe heals up quickly!
Some building blocks made for the Light Heavyweight division
The card featured a couple of Light Heavyweight bouts which I was particularly excited about watching. The first featured James Hurrell and Carl Kinslow which saw Kinslow stalking down his opponent for most of two rounds until Hurrell was able to catch Kinslow and jump on his back to sink in a rear naked choke. The weight cut seemed to have a big impact on Hurrell's cardio and would like to see him come in on weight next time round.
Darren Stewart and Pelu Adetola featured in the second Light Heavyweight bout of the night and what a fight that was. Stewart just gave Adetola no space to breath and swarmed the Cage Warriors debutant on his way to a TKO victory in the first round. What was even more impressive was that Stewart had hardly slept a wink having spent the previous night at A&E with his wife who is expecting their child. Stewart is a force at Light Heavyweight for sure.
Kianzad is the Queen of the cage
The first card of the evening ended with the crowning of the first ever Women's Bantamweight Champion. It was Pannie Kianzad who made history in a gruelling five round fight with late replacement Eeva Siiskonen. It was a back and forth first round but after the first round it was clear that Siiskonen had stepped in at late notice as she started to fade early, whilst Kianzad kicked it up a gear and was able to pull ahead of Siiskonen on all of the judges' scorecards. Absolutely respect to Siiskonen for stepping in on such late notice to fight for a title in a five round bout though, and she has definitely earned herself many more bouts under the Cage Warriors banner. Kianzad has surrounded herself by a great team in Rumble Sports and with the men's Welterweight Title also under their control it will take some doing to take away the momentum from that gym.
Hippodrome girls, the MMA police?!??!?!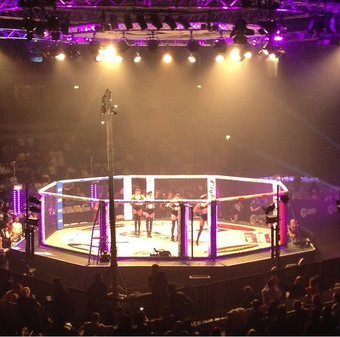 During the break between the two cards there was a period of at least 40 minutes which allowed time for the Hippodrome girls to perform a dance routine in the cage. Whilst most of the boozed up male punters enjoyed scantily clad women gyrating around in next to nothing I couldn't help but think that its things like this which get noticed by detractors of the sport and only fuel their feelings further. Having mentioned it to Graham Boylan in the media scrum afterwards he mentioned it was just a "London thing" which hopefully means we wont get to see the Hippodrome girls for a while.
Breese wins, but not in the breeze everyone predicted
It was a tough earnt victory for Tom Breese but a good solid win over an extremely tough opponent. Thibaud Larchet stepped in to replace Philip Mulpeter at the last minute and it was a risky fight for Breese to take. Larchet took everything which Breese threw at him early in the fight but ultimately it was Breese's ground game which became the undoing of Larchet as Breese was able to sink in a rear naked choke to maintain his undefeated record.
As always appreciates your feedback/comments on facebook at facebook.com/whoatv or on twitter @mmanarchy