We have another massive card to look forward too with Chris Weidman set to defend his title against Vitor Belfort and long-time rivals Chael Sonnen and Wanderlei Silva booked to finally throw down at UFC 173 on May 24th in Las Vegas.
With these two fights alone I am happy with how this card is looking. The good news for Weidman is that he finally moving on from his 'Spider' problem and faces someone other than Anderson Silva in a title fight for the first time. The bad news is that he is facing another Brazilian in 'The Phenom' Vitor Belfort.
Belfort is in arguably the best form of his near twenty year career having won his last three fights via devastating fashion winning 'KO of the Night' on all three occasions. The 36-year-old will be looking to capture his first UFC title since 2004. The TRT topic will be brought up and the fact that Belfort is fighting for the first time outside Brazil in four fights.
Chris Weidman, seven years Belfort's junior, is undefeated in eleven fights. He might not have the experience of his challenger but the pair of wins over Anderson Silva makes him a favourite over anyone in the middleweight division. This could be his most explosive encounter to date as he has never faced anyone with the power that Belfort possesses.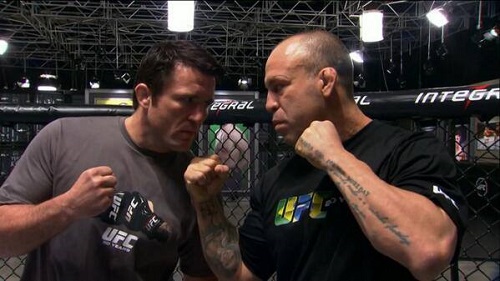 In the co-main event, that will arguably draw as much, if not more, attention than the main event, is the highly anticipated fight between Chael Sonnen and Wanderlei Silva.
The two have held a rivalry since Sonnen's comments about Brazil and the Nogueira brother while the American feuded with Anderson Silva. The two are currently serving as TUF Brazil coaches and recently have been reported to have had a physical altercation on the show.
The pair have been hot and cold with their performances lately, Wanderlei has alternated between wins and losses over his past six fights since 2009 while Sonnen has also posted a 3-3 record over his past six outings, although two of those fights were title fights.
Sonnen will be the favourite heading into this one but you cannot underestimate 'The Axe Murderer's' will to win this fight.