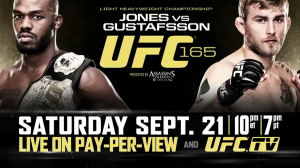 Bookmark this page and return here on Friday 20th September 2013 to watch the entire UFC 165 fighter weigh-ins from the comfort of your desk or sofa.
We'll provide the visuals courtesy of our friends over at the UFC and you can supply the popcorn and watch as the entire UFC 165 fight card takes to the scales at Maple Leaf Square outside Toronto's Air Canada Centre. Don't be late as the first mixed martial artist steps on the scale at 4 p.m. ET (1 p.m. PT).
Memory not so good? It's cool, I've got you. Follow me on Twitter and I'll personally make sure you miss nothing..deal!? Alrighty then!