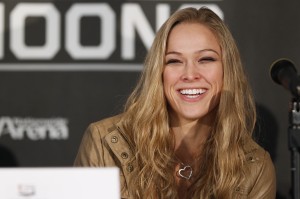 It looks like Ronda Rousey is in much better spirits following a string of awkward and tension-filled interviews at the UFC event last week. Last night the UFC star made an appearance on "Jimmy Kimmel Live" to promote her upcoming rematch with Miesha Tate on December 28th.
The reigning Bantamweight Champion's debut on ABC's long-running late night talkshow began with a thunderous applause from the audience. She discussed a number of topics including weight-cutting during Thanksgiving, her world champion judoka mother, and shed some light on her unique experience while watching "Juno" at a movie theater.
Rousey was as charming as ever, which is a blunt contrast to her appearances at the UFC festivities last weekend. This could be a testament to how much she dislikes her UFC 168 opponent, or she is activity trying to repair her image after a rocky Ultimate Fighter coaching gig.
Whatever the case, her appearance on "Jimmy Kimmel Live" shows that she is still in high demand and is as charismatic as ever.
Pictured: Ronda Rousey (Credit: UFC.com)