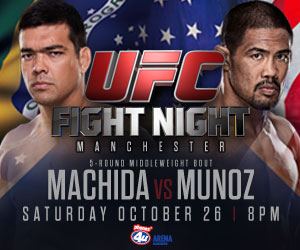 As it seems with almost every UFC card in recent years (although this year being particularly good) fans and management alike expect injuries and card changes, it comes with the territory these days and you would be naïve (or optimistic) to think otherwise. Injuries and recent additions have made the landscape for the card in Manchester look completely different.
Last week news broke that Michael Bisping had to withdraw from his main event slot, citing an eye injury, against Mark Munoz and was replaced by former light-heavyweight champ Lyoto Machida. This change has denied the UK fans from seeing "The Count" from fighting on home soil for the first time in three years, however they do get to witness the enigma that is Lyoto Machida compete first hand.
Another top UK middleweight Tom "Kong" Watson also had to withdraw from his fight with Alessio Sakara due to suffering an injury in training and was replaced by Swedish fighter Magus Cedenblad.
Anthony Njoukani pulled out of his fight with TUF's Al Iaquints. In stepped Polish sensation Piotr Hallman, who will make his second appearance in the Octagon following his impressive come-from-behind debut win over Francisco Trinaldo in Brazil just last month.
There has also been a number of welcomed recent additions to the card. TUF:The Smashes winner Norman Parke taking on his original UFC on FOX 7 opponent Jon Tuck. Parke has went 2-0 in the Octagon with two unanimous decision wins and will be looking to make a statement in his first fight in the UK for the UFC. Tuck is an undefeated fight with a record of 7-0 and is currently 1-0 in the UFC but has not fought since November of last year.
Two Ultimate Fighter veterans who have a noticeably different Octagon experience will also meet on the Fight Night 30 card as Cole Miller will face the UK fan favourite Andy Ogle. This will be Miller's fifteenth fight in the UFC whereas Ogle will be making his third.
The card, as it stands, consists of 12 bouts and with the event set to happen later this month on October 26th one would be ok to assume that the card has been finalised subject to, hopefully, no more injuries or pull-outs.
The card in numbers has; one-former champ, 10 UK fighters, 13 European fighters, 2 female fighters, 2 TUF winners, and 9 TUF veterans.
Full UFC Fight Night Manchester card:
185 lbs: Lyoto Machida vs. Mark Munoz (5 rounds)
155 lbs: Melvin Guillard vs. Ross Pearson
205 lbs: Ryan Jimmo vs. Jimi Manuwa
155 lbs: Norman Parke vs. Jon Tuck
145 lbs: Phil Harris vs. John Lineker
185 lbs: Magnus Cedenblad vs. Alessio Sakara
Facebook Prelims
155 lbs: Piotr Hallmann vs. Al Iaquinta
135 lbs: Jessica Andrade vs. Rosi Sexton
185 lbs: Luke Barnatt vs. Andrew Craig
145 lbs: Cole Miller vs. Andy Ogle
145 lbs: Jim Hettes vs. Mike Wilkinson
185 lbs: Michael Kuiper vs. Bradley Scott