The #WHOATV stock report looks back on the previous UFC we have witnessed and reflects on what the outcome of each fight means for those competing moving forward. Does their stock go up, fall dramatically, stay the same…we discuss below. This edition we look at UFC Fight Night 50.
Ronaldo Souza def. Gegard Mousasi via submission (guillotine choke), round 3, 4:30.
Ronaldo 'Jacare' Souza: Whoa! Where do I start? He looked like a world beater last night. Completely dominated Gegard Mousasi and broke him down over the three rounds until he eventually made a mistake exposing his neck. Souza looked dangerous on the feet and every punch was thrown with bad intentions. His cage work and takedowns were fantastic from his double-legs to his sneaky trips. His stock goes through the roof and could possibly be next in line for the title!
Gegard Mousasi: He is another top level talent that has stuttered since joining the UFC. At times he looks like he could easily beat anyone in the division and at other times it seems like he lacks interest, which I know is his demeanour. Never got going last night but I feel many will base that around Souza looking fantastic. His stock goes down slightly but he will remain high on the UFC's pecking order.
Ben Rothwell def. Alistair Overeem via TKO (punches), round 1, 2:19.
Ben Rothwell: Didn't look to fluid last night and was very flat-footed. However, when you have the power that 'Big Ben' possesses you can sort of rely on landing just one blow. That's exactly what happened last night as the big man was being out struck by the much quicker Overeem and then landed a blow to the side of the head knocking 'The Reem' over and pouncing him with punches. This win would have meant more a couple of years ago but after Travis Browne and 'Bigfoot' Silva have had their way with the Dutch superstar a win over him doesn't seem all that special anymore. In saying that it offers Rothwell the perfect platform to make a run at the title, his stock is moving slowly upwards but needs to look more impressive in his next fight.
Alistair Overeem: I think this is a new low point for The Reem's career. It seemed like this fight was arranged with him in mind to get the 'W' and work back towards title contention but that seems like a very long shot at this stage. I would even go as far as saying that Overeem should be considering retirement at this stage. He looked impressive, faster than we've ever seen him before in the UFC and throwing an array of punches and kicks. But it once again boiled down to not being the best at taking a punch and in the UFC's heavyweight division that is like driving a racing car that has no breaks. His stock plummets.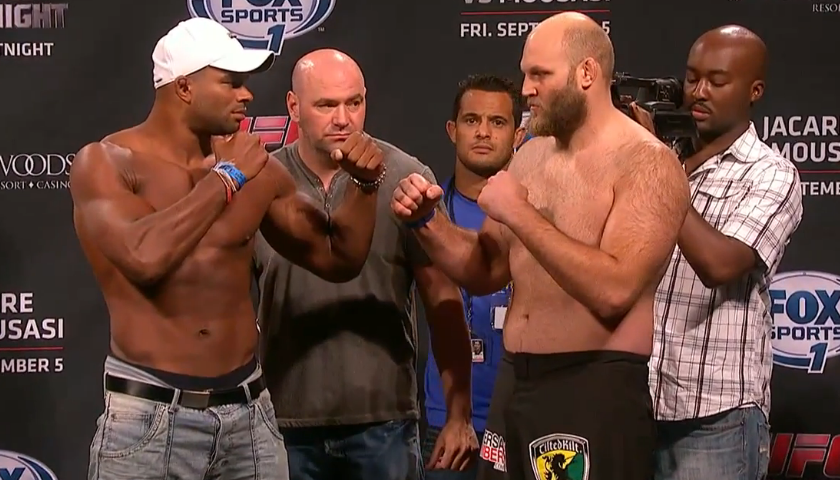 Matt Mitrione def. Derrick Lewis via knockout (punches), round 1, 0:41.
Matt Mitrione: Needs to be tested against a ranked opponent to find out where he is at quick. This win gave him his 7th UFC TKO/KO win and is now joint second behind Cain Velasquez for most wins of that nature. Stock continues to rise but needs a win over a notable name.
Derrick Lewis: It was a tough loss but a flash KO in the heavyweight division isn't that detrimental to someone's career (unless it keeps happening obviously). Lewis has looked very dangerous in his career thus far and this being his first setback in the UFC it won't hold him back too much. Expect him to fight at a similar level in his next fight. Stock stays relatively the same as he is still an unknown in the UFC.
Joe Lauzon def. Michael Chiesa via TKO (doctor stoppage), round 2, 2:14.
Joe Lauzon: Back and forth fight that earned both fighters 'Fight of the Night' and another bonus for J-Lau. Unfortunately it was stopped by the doctors due to a cut sustained by Chiesa. Out of the two fighters here Lauzon needed the win more. Lately he has been back and forth with wins and loses and he needs a good run to work his way towards the title. Not the ideal way to win the fight but it is a 'W' nonetheless and another bonus. Lauzon's stock rises as does his 'excitement' factor in the UFC.
Michael Chiesa: Didn't lose much here only momentum, but I don't expect that to hinder the TUF winner moving forward. A loss to Lauzon isn't something to be ashamed of. Got a bonus too. His stock stays on course evening out awaiting what happens in his next fight which will force the stock to rise or fall.
Check out the rest of the results for UFC Fight Night 50 here.