The UFC returns to England's green and pleasant lands this weekend with the O2 Arena in London playing host to UFC Fight Night 37. Topping the bill is a light-heavyweight tussle between the two premier 205lb'ers in Europe, as Alexander Gustafsson takes on London's own, Jimi Manuwa.
The rest of the main card is pretty healthy for a UK event, and for what must now be termed as a 'Fight Pass' event, with some top prospects and name fighters featured from across the MMA globe.
So, let's get on with the preview.
(#1) Alexander Gustafsson vs. (#11) Jimi Manuwa – 205lbs.
There's very little left to be said about Alexander Gustafsson's most recent performance, a closely contested five round split decision loss to UFC Light-Heavyweight Champion, Jon Jones. Gustafsson put in a shift that very few tabbed him for and he ran the champ as close as anyone has before and arguably beat Jones in many people's eyes. Many are clamouring for a rematch, but it is important that Gustafsson does not get distracted by these voices and focuses purely on this fight, as Jimi Manuwa is not the kind of guy you want to look past.
Jimi Manuwa has experienced an odd start to his UFC career. While he has managed to keep his perfect MMA record in one piece and secure finishes in all three of his Octagon appearances, not once has Manuwa been the one to deliver the conclusive blow. First there was Kyle Kingsbury, who had the ringside doctor wave off the fight after a particularly brutal onslaught from the 'Poster Boy'; then came Cyrille Diabaté, who quit on his stool after suffering in-fight injuries as a result of Manuwa's attack; and finally we have Manuwa's most recent opponent, Ryan Jimmo. Jimmo was on his toes after being on the receiving end of a Manuwa knee to the head, when all of a sudden, his hamstring gave way and the ref waved the fight off as Jimmo lay in agony. Manuwa is currently 14-0-0 in his MMA career, and a victory here will catapult him in to the big time, as well as the top ten of the 205lbs division.
Ever since this fight was made, I have been counting down the days. For me, this is one of the most anticipated fights of the year as it has a real sense of intrigue surrounding it. Can Gustafsson deal with Manuwa in a way that makes the calls for a Jones rematch deafening? Or can Manuwa spoil the party and go on to forge a name for himself in the light-heavyweight division? Manuwa certainly has the fight-altering power, more so than Gustafsson, and this will certainly be the x factor in the fight. If Manuwa is able to land significantly, this could well be a quick nights work for the Croydon native, however if Gustafsson is able to use his grappling, height and reach as effectively as he did in the Jones fight, it could be tough to pick against him. I'm fairly on the fence with this one, but if I have to pick, I'll side with Gustafsson, but I would not be putting any money on it.
Prediction – Gustafsson via unanimous decision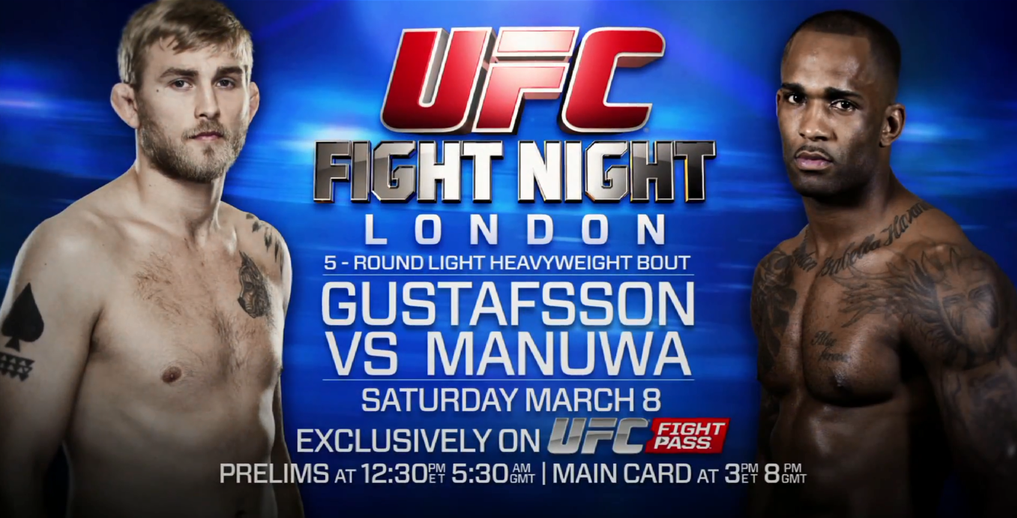 (#14) Michael Johnson vs. Melvin Guillard – 155lbs.
Stepping in for an injured Ross Pearson, Michael Johnson is out to make a name for himself. Having graduated from the TUF ranks, Johnson initially found it a tad tough and struggled for consistency in the UFC's lightweight division. Lately, however, it seems as though Johnson has turned a corner and starting to put it all together. Johnson's last two fights have been victories and over UFC notables Joe Lauzon and Gleison Tibau, and with a victory over Guillard on his CV, it's likely that Johnson will be knocking on some important doors in the very near future.
Depending on which Melvin Guillard shows up, we either have a very real and live contender in the division or a complete bust. Guillard has been in with some of the best that the UFC has to offer, and beaten them through a combination of sheer athleticism and punching power. However, we've also seen the other side of Guillard far too often, where he over-commits and gets caught, or is left wanting in grappling exchanges. Here's hoping we see the former Guillard, as that would mean we are in for one hell of a fight.
If anyone is going to knock anyone out, it will be Guillard who is the one standing over a prone Johnson, rather than the other way round. However, while that is more than possible, I think Johnson has really turned a corner in his career and is beginning to showcase the kind of potential we thought would remain unfulfilled. Look for Johnson to control the distance in the striking exchanges, whilst mixing up takedowns effectively to secure a decision victory.
Prediction – Johnson via unanimous decision
Brad Pickett vs. Neil Seery – 125lbs.
Having run in to a bit of a roadblock in the bantamweight division, after losing out in two #1 contender's bouts, Brad Pickett has taken the decision to drop down to the flyweight division and test the 125lbs waters. Despite the previous setbacks at bantamweight, Pickett remains one of the leading fighters in terms of ability and will give plenty of fighters fits in his new home. With a win already registered over UFC Flyweight Champion Demetrious Johnson from their bantamweight days, one or two successes for Pickett could see the London lad in a title fight sooner rather than later.
Filling in for an injured Ian McCall, Neil Seery jumped at the chance to sign on with the UFC and take on Pickett. While Seery's record reads 13-9-0, many of the losses Seery has experienced occurred in the early stages of his career, and of late Seery has been on quite a run of form under the Cage Warriors banner, rattling off four straight victories ahead of his Octagon debut.
A UFC debut, and a short notice one at that, as well as a fight with one of the world's very best in the lighter weight classes in his hometown, this will be a big ask for Seery. Seery has been on a good run of form lately and will likely be given another chance in the UFC irregardless of this outcome which will give him a fairer crack of the whip than this bout does. Pickett takes this, and I reckon early.
Prediction – Pickett via KO/TKO
Gunnar Nelson vs. Omari Akhmedov – 170lbs.
Nelson will be competing inside the Octagon for the first time in over a year when he takes on Omari Akhmedov. Last time out, the highly-touted Nelson secured the unanimous decision against Jorge Santiago back in February 2013 at UFC on Fuel TV 7, taking his UFC record to 2-0. A decorated BJJ player, Nelson has enjoyed a near flawless career to date, with just an MMA debut draw the only stain on his record.
This will be the second time that the Dagestani Akhmedov will have fought inside the UFC, having debuted last November in memorable fashion. Squaring off with Thiago Perpétuo, Akhmedov would go on to KO the Brazilian midway through the first round of their encounter, announcing himself on the world stage in the process, proving that he was the real deal. Like Nelson, Akhmedov is also undefeated and will be looking to ensure that his perfect record remains intact after Saturday's bout.
Akhmedov carries heavy hands, but I think Nelson has the fleet of foot and movement required to stay out of his opponent's range; and if this one does hit the mat, then Nelson holds a clear advantage.
Prediction – Nelson via unanimous decision