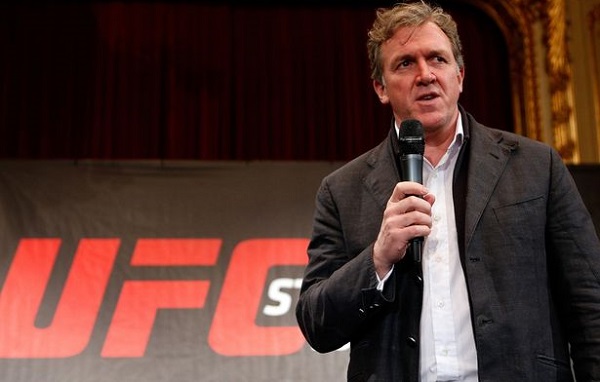 UFC Managing Director of Europe, Middle East and Africa, Garry Cook spoke with MMAFighting.com's Ariel Helwani today on The MMA Hour about the UFC's progress in Europe. Cook confirmed six locations for events in Europe next year which included – England, Ireland, Turkey, Poland, Germany and Sweden – and spoke on the significance of these events.
The UFC continues their strategy to make strides in Europe with their intention on visiting the continent a minimum of six times next year. The strategy is not only designed to bring more events to Europe, but also designed to reach a larger audience though primetime television exposure. According to Cook, the biggest roadblock in European expansion is the lack of UFC programming in primetime, and the fact that most live events air at 3:00 A.M.
"You really have to be a hardcore fan to see all of the live events, the great events." he said. "Look at Houston at the weekend, and look at Jones vs. Gustafsson. These are monumental moments in our sport and in the history of the UFC, and yet the mainstream doesn't get to see them."
The UFC will return to the United Kingdom in March 2014 with an event in London to kick off the "Fight Night Series". However, an exact date has yet to be announced by the promotion. The other five locations include a date in Dublin, Istanbul, Lodz or Warsaw, Berlin or Hamburg, and Stockholm or Malmo. Cook mentioned that there could be further dates added in the future for the European market.
Irish fans will be happy to hear Cook speak about an upcoming event in Dublin. It's been a long wait for the fans in Ireland, who last saw a UFC event in Dublin way back in 2009. Cook insisted that they would wait for Conor McGregor's return before they hold an event in Ireland. McGregor is likely to be ready by summer 2014 with a Dublin event set to take place in the third quarter of the year.
Watch UFC Fight Night: Machida vs. Munoz, Live from Manchester, Sat. Oct. 26, Live on BT Sport 1