Ok, so my last two prospects didn't fair so well with both Walt Harris and Tony Martin losing their respective fights. Well 'third time's a charm' they say and this time I am focusing on Serra-Longa fighter Aljamain "The Funk Master" Sterling (8-0).
Since making his debut in early 2011 the 24-year-old has racked up eight wins in a row on the regional scene, capturing a title in the Cage Fury Fighting Championship.
The bantamweight has been dubbed the future "Jon Jones of his division" and has long been heralded as one of the top prospects in the sport. His time competing at a high level began in college where he became a Division III All-American in wrestling.
His transition into MMA seems to have been smooth thus far and the new BJJ skills have complemented his wrestling capabilities. So far in his professional career he has four wins via submission, with the rear-naked choke a proven go to on all 4 occasions for the prospect. Three decisions and one TKO make up the rest of his wins.
Below you will see Sterling's last fight from November last year;

Sterling was announced to be making his debut against Brazilian fighter Lucas Martins (14-1 MMA, 2-1 UFC) just over three weeks ago but an injury forced Martins off the card. Now he will face another fighter making his debut in Cody Gibson (11-3) on the undercard of this Saturday's UFC 170.
Under the tutelage of Matt Serra and Ray Longo and training regularly with the likes of Chris Weidman, Al Iaquinta and the rest of the top fighters over there in Long Island, NY, there is every possibility he can make it to the top. The UFC is a massive step-up, but so far he has passed every test put in front of him.
You can 'like' him on Facebook or follow him on twitter @FunkMasterAljO.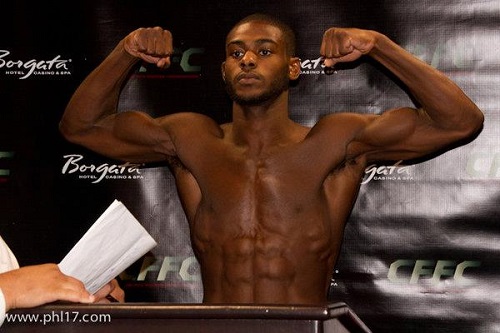 Photo's courtesy of CFFC MMA and PHL17.com