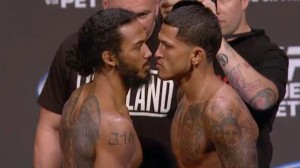 When MMA is at presented in its finest form it depicts a clash between two world class athletes, in their physical prime, testing their skills against one another. On Saturday night the UFC brings this to life with its pay-per-view offering – UFC 164: Henderson vs. Pettis 2. But what really enhances the flavour of a major event are the storylines leading in, and the major plot points of the spectacle. Let us jump right in.
THE FORGOTTEN CONTENDER AND THE HEEL TURN:
On Saturday night, #1 ranked featherweight Chad Mendes (14-1 MMA, 6-1 UFC) collides with former lightweight staple and #9 seed Clay Guida (30-13 MMA, 10-7 UFC). Mendes' sole loss on his career came at the hands of reigning champion, Jose Aldo. Mendes, who contended for the title back in 2012, lost in somewhat dubious fashion. While fighting for a takedown on  Aldo, the champion held the cage to stay upright and shortly after he landed a devastating knee to get the knockout finish.
Despite this, and despite Mendes going 3-0 with three knockouts since, there hasn't been much talk of the Team Alpha Male product getting another crack at the champion. There have been whispers, but nothing substantial. With a win over a relatively big name in Clay Guida, Mendes should position himself beside Cub Swanson and Ricardo Lamas as a candidate for the next title shot.
A common plot point in stories and movies is the heel turn – when a good guy turns bad. With Clay Guida we have seen a shift in popularity over his last few fights. The one-time fan favourite, Guida, has approached his fights considerably different in recent outings. We all remember his fast-paced, aggressive brawls with the likes of Diego Sanchez and Roger Huerta. But not many people remember his recent bouts, including his controversial decision over Hatsu Hioki.
It's not to say that Guida is a "bad guy" per se. He hasn't done an intentional 'heel turn'. But when you are one of the most thrilling fighters on the UFC roster then, suddenly, your style changes and your fights are significantly less exciting, you have to expect a shift in perception from fans.
However, it is an interesting dynamic going into Saturday; we have two major plot points. The #1 ranked contender who is flying under the radar, and the former fan favourite who looks to improve his position in the featherweight ranks. A win over Mendes is sure to do that. A frightening probability still looms though. The last time Guida fought a wrestler who likes to strike was in 2012 against Gray Maynard. The fight saw Maynard chase a backpedalling Guida for five rounds.
'THE TRUTH' BACK AT HEAVYWEIGHT
Brandon Vera (12-6-1 NC) moves back to the weight class that he called home when he arrived in the UFC, way back in 2005. Vera went on a four fight winning streak in the promotion, just missing out on a title shot due to a contract dispute. He proclaimed he would be a duel-division champion, light heavyweight and heavyweight, but after his early success with the promotion he couldn't continue that triumph.
Vera scraps with 'Big' Ben Rothwell in his return to the division. Rothwell (32-9 MMA, 2-3 UFC) has found it difficult to emulate the success he had with other promotions in the UFC. Although he has faced some very stiff competition. In his UFC debut he was handed a stern test in Cain Velasquez but eventually lost due to strikes in the second round. Rothwell went 2-2 in his next four fights.
Analysing the fight is reasonably straightforward. Rothwell will have the size advantage, but it will be the lack of speed and questionable conditioning that Vera will look to exploit. Vera, who is predominantly a striker, will look to keep the fight standing. Getting into a grappling exchange with Rothwell could be detrimental to Vera's chances of picking up a victory. This would be particularly detrimental if Vera finds himself under Rothwell where he could find himself smothered for three rounds.
But let's get away from the particulars of the fight, shall we? It's always interesting when Vera fights because the same questions pop up – Have we seen the best of Vera yet? And can Vera get back to his former glory? – I appreciate that these questions are asked too often when it comes to "The Truth" but truthfully, it wouldn't be a Brandon Vera fight without them.
THE 'WARMASTER' BACK IN THE UFC
It's been over eleven years since Josh Barnett (32-6 MMA, 4-1 UFC) stepped foot in the UFC's famed octagon. The last time we saw Barnett compete on a UFC broadcast he closed the event – UFC 36 – as the newly crowned heavyweight champion. Following a failed drug test and the stripping of his title he departed from the promotion to apply his craft elsewhere.
During his time away – a long time – he and UFC president Dana White have knocked heads on a number of occasions. In 2011, White proclaimed his problems with Barnett; accusing him of putting now-defunct Affliction out of business due to failing a drug test.
"You take a guy like Josh Barnett. This guy has tested positive three times and denies every one of them, says he didn't take them. He comes out with an interview last week saying, 'I don't care about anyone else. I only care about myself. I have some fans out there and whatever, but I'm not fighting for you, I'm fighting for me.' This is a guy who single-handedly put a company out of business and couldn't care less. He has no remorse."
Barnett struck back at the UFC boss, pointing the finger at him for intentionally attacking any non-UFC owned entities. "Anything to be a detriment and it's not even just with me, it's got to do with anyone that isn't UFC" Barnett said. "(Dana White) wants to cut it down. He wants to ruin it." Recently however, the men have tapered their differences.
Two years on and Josh Barnett finds himself back in the world's biggest promotion; he co-headlines a major pay-per-view. Barnett, formerly known as 'the baby-faced assassin' returns with a new moniker, "the warmaster" a fitting change. Barnett takes on Frank Mir (16-7 MMA, 14-7 UFC) in a fight which fans have been clamouring for due to their respective styles.
If the fight hits the mat, expect fans of the fine art of grappling to be drooling uncontrollably. Josh Barnett brings his gritty catch-wrestling while Frank Mir brings his BJJ black-belt level skills to the cage. Both men are considered to be in the upper echelon of grappling in the heavyweight division. Let's hope it goes there.
THE ANTICIPATED REMATCH:
And the plot thickens…
The rematch – it's always big business, in the movies anyway – it's a tried and tested plot point, and it works. We have seen it many times including the infamous rematch Rocky vs. Apollo Creed II. Sure, that's a fictional rematch but you get my point. If they are done correctly, they can be a spectacle.
The main feature this Saturday night pits Benson Henderson against Anthony Pettis for the UFC Lightweight Championship. This is a rematch from their WEC title showdown from 2010. The bout saw Henderson lose his WEC strap to the Milwaukee native. It won fight of the year; but it was the final round which produced one of the most jaw-dropping moments in MMA history, if not the most.  The extraordinary off-the-wall 'Showtime Kick'.
The intertwining storylines going into this fight are difficult to put into words, and quite frankly aren't even needed. The promotion of this fight was done when Pettis landed the kick on Henderson's chin. But there is much more to this fight.
In 2011, Pettis entered the UFC as the newly crowned WEC lightweight titleholder. He has a golden ticket for a title-shot with the UFC champion. Due to an immediate rematch between Frankie Edgar and Gray Maynard after they drew, Pettis took a fight with Clay Guida. The decision proved to be a disappointing one for Pettis. However, he stated that he doesn't regret taking the fight and it helped him grow as a fighter.
Following a string of bad luck with injuries, Pettis missed out on potential title-shots including a bout with Jose Aldo. But after all the unfortunate events, he finds himself against the man he defeated three years ago in the WEC. It has finally come full circle for 'Showtime'.
But what makes this rematch particularly interesting are the improvements of both fighters since their first meeting. Benson Henderson has yet to lose since joining the world biggest promotion. He captured the title from Frankie Edgar in February of last year, and has defended the strap three times since. Henderson looks to set the record for most lightweight title defences in the organisations history. He is currently tied with BJ Penn and Frankie Edgar with three.
Pettis' improvements have been evident in his last two fights, knocking out Joe Louzon with a head kick and finishing Donald Cerrone with a liver kick. It will be interesting to see how the two lightweights match-up on Saturday night. You can catch all the action live on BT Sports 1 in the UK and Ireland.