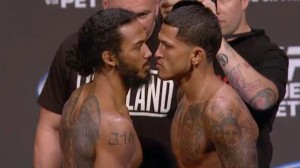 Before getting into a breakdown of the fights on the UFC 164 card, I feel a need to share the sense of nostalgia with which I've been filled. The roster for UFC 164 feels like old home week as it features several of the people so entrenched in the history of MMA. Josh Barnett, veteran of Pride, UFC, Pancrase, Strikeforce, Affliction and Sengoku is back after 11 years of fighting in various other organizations to face former UFC heavyweight champ Frank Mir. Also returning to UFC ranks after a six year lapse is Australian strongman, Soa "The Hulk" Palelei. Although he has never left the UFC, Brandon Vera also returns to the cage, this time facing Ben Rothwell. Vera is an interesting case, as his record since 2006 has been mediocre at best (4-6-1). Prior to that time, however, he was on a fabulous winning streak which ended with his TKO of Frank Mir at UFC 65.
But on to the actual fight card…  If this card could be named anything besides "164", I suspect it could be called "Revenge" or at least that would be the title for the main event. As many of you will recall WEC 53 saw Anthony Pettis defeat the now reigning UFC lightweight champ Benson "Smooth" Henderson by unanimous decision. Pettis was the last man to defeat the "Smooth" one. With regard to style, Pettis brings an unequivocal mastery of the striking game to the cage, as experienced by both Joe Lauzon and Donald Cerrone. The question, however, is what will happen when Henderson takes this show to the ground. While Pettis has demonstrated that he has some skill as a grappler and is capable of pulling off a submission or two, Benson has only one submission defeat on his record. Undoubtedly, this fight will go the distance with victory coming by way of unanimous decision.
The battle between veteran heavyweights Frank Mir and Josh Barnett, would have been a great fight five to nine years ago. Even three years ago, most fans would probably have been happy to see a face off pitting Barnett, who outranks Mir as a wrestler and has good cardio and a solid chin, against Mir who brings his unremorseful ability to break limbs at will to the cage. An in-shape Mir also demonstrates solid conditioning, cardio and strength. Mir's chin, however, has come into question. By any other name, this fight would be titled "Redemption" as both men will seek to recapture something lost and prove themselves to be the warriors they once were.
Also mentioned on the UFC 164 card are the match-ups between featherweights Chad Mendes and Clay Guida. In this match-up Mendes appears to be the better fighter overall, with both good striking and takedown skills. Guida, on the other hand, has excellent cardio, great wrestling and is especially good in top position. Guida, at this time, however, does not match Mendes' power in the punching department.
Another match-up in the Redemption category is between heavyweights Ben Rothwell and Brandon "The Truth" Vera. This bout features Vera in his return to heavyweight after a glorious climb of the ranks and subsequent fall and retreat to the light heavyweight class. Vera brings unmatched skill as a muay thai technician and the cardio lacking in Rothwell. Rothwell is however a banger and is not afraid to stand and trade punches with his opponent. If Vera is to redeem himself with this bout, he will need to avoid the powerful strikes and takedowns of Rothwell and test any improvement or lack thereof in Rothwell's cardio.
The bout between Erik Koch and Dustin Poirier pits the kid with a powerful punch and a great submission game (Koch) against Poirier who comes across as a well rounded fighter with good boxing and relentless energy to attack his opponent with takedown attempts. Poirier does have a reach advantage in this bout and would be wise to use it, and anything else, to maintain a position that does not allow Koch to capitalize and walk away with a KO or submission.
UFC 164 offers seven additional preliminary bouts split between Facebook/YouTube and Fox Sports 1. All in all the card, if nothing else, promises to be interesting. I'm sure we will be treated to an upset or two, as well as the possibility of one or more fighters pondering whether they would like to continue in the fight game.