The Ultimate Fighter (TUF) has been on our screens for some time now. A lot of fighters go through the reality TV show, some get to stay and make a career for themselves in the UFC while most get sent back into the MMA wilderness with a little added fame and a taste of the big time. I am going to focus on the latter, I am seeking out former TUF competitors to hear their opinions of their time on the show, what they are up to these days and what the future may hold.
In the first edition of our 'TUF: Where Are They Now?' series I spoke with Chuck O'Neil (13-6), a competitor you all might remember from Team Lesnar on TUF 13 back in 2011.
The 28-year-old made just one appearance in the UFC which ended in a decision loss to Chris Cope at that season's finale. Since then Chuck has posted a record of 5-2, including a win over fellow UFC veteran Marcus Davis. I spoke with Chuck about a number of topics such as his experience with TUF, Brock Lesnar, and what he plans for in the future.
Alan Murphy: Looking back at TUF, was it the right decision in the long run for your career?
Chuck O'Neil: I loved my experience I had being on the ultimate fighter. When I first found this sport, I instantly became obsessed with it. I saw the first season of TUF and set a goal of being on the show someday and making that happen was amazing. That being said, I wish I could do it all over again with the skills and potential I have at this point in my career. I feel I'm in a way better place physically mentally and skill wise and would do a lot better!
AM: You only had one fight before you were released, do you think that you should have been given more time within the promotion?
CO'N: In a perfect world I wish I'd still be a part of the UFC. I mean who wouldn't want to be? However, at the time I wasn't fully ready. I had a long way to go with my skills and training to be ready for that bigger stage. So now I continue my daily battle to try and make my way back.
AM: What was the immediate impact of TUF/UFC on your life?
CO'N: The biggest impact I got was a wake up call to myself to start taking training a lot more seriously. I could no longer try to be the best just because I was tough I needed to learn actual technique. On top of that it was time to add functional muscle onto my frame.
AM: What are your fondest and least fondest memories of being on TUF?
CO'N: The whole thing was an amazing experience. Getting my first win on the show was surreal thinking I finally had done something I wanted so bad. I wish I would've had a coach who genuinely cared more about the fighters he was in charge of but can't do anything to change that now.
AM: Any crazy stories that weren't shown on the TV show?
CO'N: I was definitely causing more trouble during my time on the show then what was being shown. You have a lot of down time and down time for me is a bad mix. I don't drink or party so I like to make my own fun.
AM: Do you keep in touch with anyone from the show?
CO'N: The guy I talk to the most is Justin Edwards. Justin and I had an interesting journey together. We were both brought out as alternates, sent home as the show started without problems then brought back to fill fighters spots on the show. We touch base like once a month. I talk to a few others every now and again but life just separates people sometimes.
AM: Brock Lesnar, what are your thoughts on him as a person and as a coach? How did you get on with him?
CO'N: Brock is a sports entertainer through and through. He seemed to really love the cameras when they were around and would turn his wrestling persona on then. He'd cancel a lot of practice and never really opened up to any of us which kind of sucked for us. Being friends and teammates with Jimmy Quinlan and Peggy Morgan, I was envious of them having better coaches and experiences over all.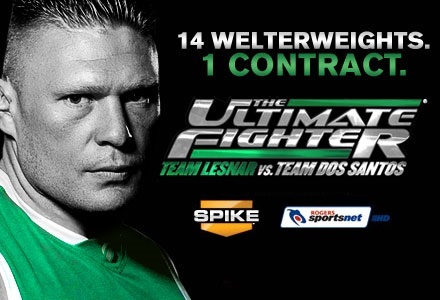 AM: Would you suggest TUF as a route to the UFC if anyone asked you for advice?
CO'N: Absolutely, it was an amazing experience and I've had a couple friends make it through the show as well.
AM: You are still in regular action in the CES MMA promotion. Are you enjoying your MMA at the moment?
CO'N: I am. I don't fight because I have to, I fight because I love it. I wish it were easier to find fights for me currently but the guys at CES do a great job keeping things smooth and professional for me.
Chuck in action at CES MMA last November with a first round TKO win.

AM: What are your goals now in the sport?
CO'N: Getting back to the UFC is definitely a huge goal of mine I'm chasing now. I honestly feel a solid 2-3 more wins in a row should give me that chance to come back into the promotion. I understand I can't fight forever though and have a fall back plan in order for when fighting is over. I have the goal of one day opening a full gym with MMA and general fitness capabilities on the south shore area of MA. I'd love to open a branch of Mass BJJ on the south shore which is the gym I fight out of. Also receiving my black belt in BJJ under my coach Nate Ryan is a huge goal!
AM: Talk about your life outside or MMA and where does the sport rank in priorities for you?
CO'N: I'm a personal trainer with a business I run out of a gym on the south shore area of mass called Snap Fitness. I got my Bachelors degree in exercise science and bettering people's lives is a huge passion of mine. Fighting is still, as of now, number one for me. However having this steady income makes life less stressful
You can follow Chuck on Twitter @chuckoneneilmma and on Instagram under the same handle. If any of you are in the Massachusetts area check out Mass BJJ in Acton or Arlington. Also a shout out Chuck's supplement sponsor smartpowders.com.