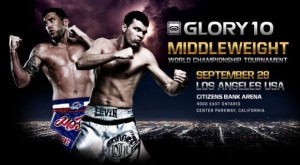 In case you missed the stateside debut of GLORY on June 22nd, have no fear GLORY is back with three more stacked stateside cards beginning September 28th in LA! For those of you unfamiliar with the organization, GLORY World Series is an evolution of Ultimate Glory, founded by Bas Boon, Martijn de Jong and others in 2006. In 2012, the first GLORY production took place in Stockholm. Since that time, the organization has rocked Europe and Asia with show after show stacked with the most well known names in the kickboxing scene. In early 2013 GLORY World Series began is quest for the best talent in North America with its Road to Glory tournament, where stand outs like Dustin Jacoby and Brian Collette gave a sneak preview of the enthusiasm for kickboxing here in the States. But enough history.
On September 28th GLORY brings its show to the Citizens Bank Arena in California for GLORY 10. Scheduled for this card is a battle for the middleweight crown as well as seven superfights including the likes of Davit Kiria, Murthel Groenhart, Andy Ristie, Sanny Dahlbeck, Brian Collette, Randy Blake and others. The main event for this card features a bout between Pride and Strikeforce veteran Sergei Kharitonov vs. K-1 veteran, Jerome LeBanner. The co-main event pits the infamous "Pokerface" Robin van Roosmalen against Shemsi Beqiri.
The Tourney:
If you've ever wanted to witness an outright war in the ring, GLORY's middleweight tourney is bound to give you an inkling of what it's like. Muay Thai masters Stephen Wakeling and Joe Schilling are set to face off in round one. While Schilling makes his GLORY debut, this is Wakeling's second showing in the GLORY ring. Schilling brings an unapologetic attitude and fighting style to the ring and also a reputation for cutting his opponents with brutal blows, hence the nickname "Stitch Em Up".
Schilling additionally has good footwork and has a talent for throwing effective kick punch combos. Schilling's major flaw is his impatience as seen in his loss to Eddie Walker. Wakeling, the former WBC Muay Thai Super Middleweight World champion, hot off his GLORY 5 win over Eddie Walker is hungry for a rematch with Levin . Their last meeting ended as a draw at Xplosion Muay Thai in 2012. Wakeling's style makes for a good match for Schilling as he is fearless, forward moving and very good defensively. Wakeling also has great low kicks, knees and head kicks that he lands with precision, hence his moniker, "The Surgeon". In his debut at GLORY 5, it was clear that Wakeling had a thing or two to learn about rule differences in the GLORY ring, that undoubtedly has changed and the match between these two will definitely be explosive!
In the second semi-final middleweight bout, Jason Wilnis faces the man everyone wants, Artem "The Lion" Levin. If you recall, Wilnis made his GLORY debut in Tokyo against Toshio Matsumoto where he won via unanimous decision. In this tourney Wilnis is the underdog. Ranked at number four among middleweights, Wilnis is the least flamboyant of the group. Wilnis is more of a slow burn, technically breaking down his opponents and working them from the inside with powerful blows to the head and body.
This style, however, requires time and may prove lacking in the match-up with Levin known for his unorthodox and frenetic style. Levin, who is currently the favorite of the tourney and the number one ranked middleweight, having beaten Sahak Parparyan in his GLORY debut, holds an impressive record, 69-5-1, 31 wins via knockout. Unorthodox or not, Levin brings to the ring speed, excellent use of kicks both low and high and the ability to incorporate brutal knees in the clinch. Levin is equally skilled in defense anticipating strikes from his opponent and appropriately countering. Levin also demonstrates excellent flexibility and balance. Given his many talents, it seems unlikely that he will allow Wilnis the inside position that is his niche. Nor will he abandon his muay thai skills to level the playing field.
In any fight an underdog can be victorious and favorite can get caught. One thing is certain, the GLORY 10 middleweight tourney promises to be exciting! Superfights, anyone?