After another failed attempt at capturing the UFC title for Urijah Faber at UFC 169 last weekend it got me thinking that there are quite a few "nearly men" in the UFC at present that have been there or thereabouts when it comes to capturing a championship.
So here is a rundown of fighters that spring to mind:
Michael Bisping (24-5 MMA, 14-5 UFC, 0 Title Shots)
UK fight fans are still hoping that 'The Count' will eventually get his shot. He has been a member of the UFC roster for the past 8 years, a winner of TUF 3 and being a top 10 ranked middleweight for a number of years now that title shot has eluded him after fighting in three title eliminator fights but losing to Dan Henderson, Chael Sonnen and Vitor Belfort.
At 34-years-old the next few fights are pivotal if the Brit is ever to be successful in a quest for the title.
Dan Henderson (29-11 MMA, 6-5 UFC, 2 Title Shots)
On of the GOATS in MMA, this legend has been on the cusp of becoming UFC champ a couple of times. In 1998 he won a UFC middleweight tourney but that doesn't count. After dominating in Pride and becoming the MW and LHW champ over there he came back into the UFC to fight, then champs, Anderson Silva and Quinton Jackson in title unifications. But he lost both fights.
Fast forward a year and he nearly knocks Bisping's head off in a title eliminator but contract disputes mean he never gets his title shot. Then in 2012 and at 41-years-young he finally gets another crack at the LHW title and was schedule to face Jon Jones at the now infamous UFC 151 event but the veteran got injured the week of the fight and was unable to fight. That was probably his last chance at a title as he has lost his last three fights.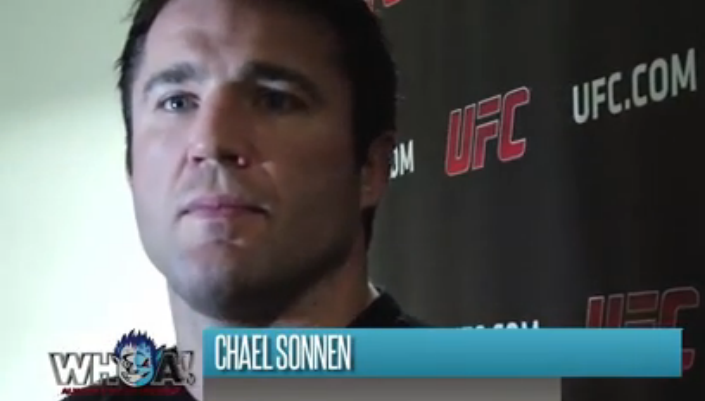 Chael Sonnen (28-14-1 MMA, 7-7 UFC, 3 Title Shots)
No one was more agonisingly close to capturing a UFC title (twice) than Chael Sonnen was. Let us rewind to his first title fight against Anderson Silva, he dominated Silva over the course of 5 round and then on the brink of defeat 'The Spider' pulls off a triangle choke to defeat Sonnen. The rematch was a different story, a slip up from Sonnen resulted in a TKO win for Silva.
Credit to Sonnen, I don't think any man in combat sports history could lose a title fight and talk himself into another at a bigger weight class. That is what 'The American Gangster' did to get a crack at Jon Jones' title. It was a dominant performance from Jones as he simply walked through Sonnen. The funny thing about this fight is that Jones broke his toe so badly that the bone broke the skin, had Sonnen survived until the end of the round Jones would have had to forfeit as he wouldn't have been able to continue.
Nick Diaz (26-9 MMA, 8-6 UFC, 2 Title Shots)
Now I know I said current fighters and Diaz is "retired" but lets face it, he is only 30, is one of the best in the world and loves money so I think it is safe bet to say he'll be back.
After being part of the UFC in the early to mid 00's and establishing himself as a mediocre scrapper. He then left the promotion in 2006 and went on a tear in Elite XC and Strikeforce winning 10 straight and capturing their titles. A UFC return was inevitable and the Stockton native came back and destroyed BJ Penn. This earned him a shot at the interim title in which he lost to Carlos Condit. Then a year long suspension for marijuana metabolites, but upon his return he unsuccessfully fought champ GSP for the title.
Gray Maynard (11-3-1-1 MMA, 9-3-1-1 UFC, 2 Title Shots)
The Bully seemed like a shoe-in to capture the title from Frankie Edgar when they first fought. He dropped Edgar and dominated him early on in the fight but the champ battled back in the latter rounds. It went the distance and everyone was expecting a new champ to be crowned but then Bruce Buffer announced it as a "draw"! This meant Edgar retained the title.
Maynard got an immediate rematch but this time lost via TKO in the fourth round. He then needed a couple of wins to get back in the mix, so he went out and defeated Clay Guida and found himself in title eliminator with TJ Grant….but he lost that and this lost his chance at another crack at the title.
Other fighters who nearly got their in the past:
Kenny Florian: 3 shots at a title- 2 at lightweight and 1 at featherweight.
Pedro Rizzo: 3 shots at the heavyweight title.
Jeremy Horn: 2 shots at the light0heavyweight title.
Frank Trigg: 2 shots at the welterweight title.
Coal Uno: 2 shots at the lightweight title- lost one and fought to a draw in the other.