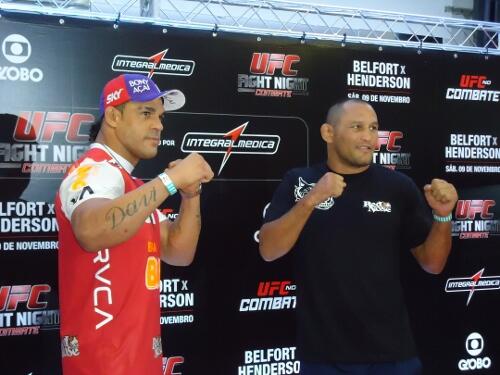 Dan Henderson suffered his first loss via strikes in his storied 40-fight career at the hands of Vitor Belfort last night in Brazil at UFC Fight Night 32 and my immediate reaction to witnessing this collector's item of a finish was that I have no interest in seeing Dan Henderson compete any more.
Henderson is a true legend of the sport and his accomplishments, be they in a ring or cage, are comparable to the very best that MMA has seen. The 43 year old Henderson has been competing across the globe since 1997 and has collected either tournament victories or championship belts in every promotion that he has fought for other than the UFC. Rings, Pride and Strikeforce have all had Dan Henderson atop of their promotion at some time or another, but Henderson has not been able to secure the one that means the most, a UFC belt.
Henderson has had shots at both the UFC Light-Heavyweight (UFC 75) and Middleweight titles (UFC 82), but come up short on each occasion. Following his title-winning run in Strikeforce, Henderson was re-signed by the UFC and in his first fight back, Hendo engaged and triumphed in one of the all-time great UFC fights with Shogun Rua at UFC 139 and earned another shot at the light-heavyweight belt, scheduled for UFC 151 against Jon Jones. However, Henderson would never challenge Jones' supremacy as a result of an injury he sustained in practice, which lead to the entire event being cancelled. The defeat to Belfort last night rendered any faint title ambitions, or delusions, for Henderson were now over and the gold-chasing chapter of his career can be definitively closed.
Post-fight, Henderson spoke of "getting caught" and having "a bad night", but in reality Belfort's stunning knockout of his opponent was merely the exclamation mark on a steady decline in form and ability on the part of Henderson, as the former Olympian dropped his third straight fight for the first time in his career. Henderson may well have just got caught or had a bad night, but based on recent performances, last night's outcome was hardly unsurprising.
Henderson has cut an increasingly desperate looking figure in the Octagon of late in his clashes with Lyoto Machida and Rashad Evans. Bounding after his opponent, head down and pawing at thin air as he attempted to find his range before unsuccessfully unloading the right hand; Henderson has steadily regressed as his career has gone on, all but abandoning his wrestling in pursuit of detonating the famed H-Bomb. This same tactic proved to be decisive last night, but not how Henderson would have wanted, as Belfort was able to land an uppercut flush on the onrushing Henderson that signalled the beginning of the end.
It's not as if Henderson hasn't undergone treatment to prevent a decline in performance as he aged, as he has. Henderson was one of the first, or at least most high profile cases to have used the controversial testosterone replacement therapy, or TRT as it is more commonly known, and he has reaped the rewards of the accepted drug since he first started the program in 2007. Belfort is also a user and avid supporter of TRT, but it seems as though he still has the physical capabilities that are required to fully exploit the benefits of the therapeutic exemption and has looked better than ever over the last year or two. Belfort is no spring chicken at 36 years old, but in there with Henderson he looked half Hendo's age. The same cannot be said for Dan and if he is unable to make another run at the title even with the aid of TRT, at the age of 43, what is left for Henderson to accomplish in MMA? The only purpose that TRT seems to be serving at the moment is ensuring that Henderson is fit enough to step inside the Octagon, not necessarily compete anymore, as there surely comes a point when all the programmes and exemptions in the world are still not enough to combat the passing of time and the physical deterioration of the human body.
This was Henderson's final fight of his current UFC contract. If the UFC continue their current trend of releasing or passing up on the option to retain a fighter when they feel as though that the combatant is on a downward curve and of no threat to the division they compete in, like they felt with Jon Fitch and Yushin Okami, then surely Henderson's tenure, irregardless of past accomplishments, must come under some serious consideration. Recent form, age, salary and the ability to prevent fresh contenders from mounting a title challenge in a division as bereft of title challengers as light-heavyweight, all render Henderson irrelevant and dispensable in the current climate of the UFC.
UFC President, Dana White has already said that he and Henderson "will talk" after he has had a few weeks to separate himself from the emotion of the night, while it will be sad to call time on a career as illustrious as Henderson, the safest call to make at this moment in time is for Dan to walk off with his health intact and legacy secured.