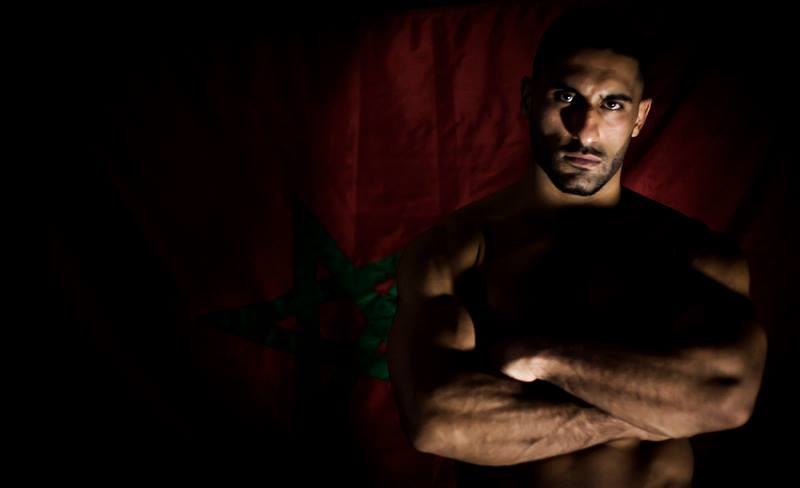 Khalid 'The Desert Lion' Ismail has been crowned the new UCMMA Welterweight Champion. No blood was shed, and indeed no sweat but perhaps some tears last night. These would have been tears of despair. In the run up to his title fight his camp spanned not only the depth and breath of the UK but also the oppressive heat of Morroco. Ismail takes the sport seriously but what is evident his opponents do not. After five pull outs Ismail was to learn last night at UCMMA 36 he would be crowned champion by default as his final opponent pulled out at the last possbile and inconvenient moment on fight night.
"I feel for my friends and family who bought tickets, especially in this financial climate. The support I've had in the run up to this fight has been phenomenal. Lifting the belt last night after I had been told of the pull out is almost a gift and a curse. It's clear to me that I must be considered a problem for fighters and my reputation for finishing opponents must make welterweights in this country second guess themselves" A rather somber Khalid Ismail take s a pause in our conversation, his words have a certain humbleness to them and he speaks as a man who simply just wants to fight on his terms. His terms are simple, be professional, turn up to fulfil what you have been contracted to do. Fight.
Ismail has a fearsome reputation, a finisher who dominates his opponents with his devastating stand up. A highlight reel is seemingly always guaranteed when he enters the cage, and his opponents, when they show up, all know this. Despite the pre fight bluster, the strong words, the Facebook status updates,  tweets and caustic interviews from his opponents they fall by the way side as fight night draws near. To his credit the show's matchmaker, Dave O' Donnell continues to meet his obligation in finding those who at first want to step up.
"These guys, alot of them givie it the big talk on Facebook and in their gyms they make me laugh. I'm a blue belt and one of my opponents that pulled out was talking as though he was a well seasoned blackbelt. His crazy talk is a disgrace especially as it comes after he got choked out at the London Open within seconds of stepping on the mat. I wasn't really surprised when he withdrew and said he wasn't able to face me."
Ismail speaks as someone who is frustrated by the lack of opponents willing to face him. It's clear that he is in a different league, head and shoulders above the roster currently employed by UCMMA but with this borne in mind wouldn't a move to another promotion with a deeper welterweight division be the answer. In fact it's not at all stretching the boundaries of the imagination to suggest he wouldn't be out of place on the UFC's roster should he continue his winning streak.
"Dave O' Donnell is a commendable promoter and matchmaker who pulls out all the stops when opponents don't. He and the show UCMMA are blameless in all of this. My main focus at the moment is continuing my training, sharpening my weapons so that when someone is finally brave enough to come and challenge me for the belt I'll be ready. For now I'll be waiting."