Another Benson Henderson fight and another disputed split decision victory. This time the fall guy was portrayed admirably by former Strikeforce lightweight champion, Josh Thomson.
First off, I scored the fight 48-47 in Thomson's favour, with the AKA product taking rounds 1, 2 and 4 through a combination of effective grappling and ground control. Were it not for a broken thumb suffered in the second round, Thomson very well could have built up an unassailable lead as that was the way the pendulum was swinging by the time we heard the second klaxon. Henderson was controlling the pace and direction of the fight during a round's downtime, however once the bout would spring in to life it would be Thomson who was the one enjoying the spoils, dragging Henderson to the mat several times and taking his back on numerous occasions.
I would not go as far to say that it was a robbery of a decision and that it was inconceivable that Henderson could have won, it wasn't. Henderson certainly had his moments, particularly after Thomson's timely injury and the fourth round was very much up to interpretation. If you favour continued Octagon control with little offensive output over meaningful, yet sporadic activity then Henderson was your guy in this fight.
The feeling that emanates after a Henderson bout is hardly new or surprising, as we had our fill of inconclusiveness during his 18-month reign as the UFC's lightweight champion, but what was surprising was the rhetoric spewed from the UFC commentary team in the closing stages of the fight. Henderson was described as looking "outstanding", with Thomson needing to "go for broke" as the fight drew to a close. The way the action was being described by Mike Goldberg and Joe Rogan was as if we had witnessed a blowout and that Thomson was lucky to still be in with a chance of pulling this off.
This continued whilst we waited for Bruce Buffer to relay the judge's decision with both Goldberg and Rogan bemoaning Thomson's luck in regards to the injury he suffered and stating that Henderson looked "excellent" with the former UFC champ getting "back on track". When it comes to a decision, especially when it is as close as this, the fight game is all about opinions. Goldberg and Rogan are not ones to sit on the fence and they do offer an honest viewpoint when they commentate, for which they should be commended for; however, when a fight was this tightly contested, yet the immediate post-fight postulations so clear, it can breed confusion and further dissatisfaction for the viewer with the result particularly when they are coming from the UFC's chosen mouthpieces.
Prior to this fight, Henderson spoke of wanting to restore people's faith in his ability, that he was capable of challenging the current UFC lightweight champ, Anthony Pettis, despite having been on the losing end to him on two previous occasions. If this genuinely was his personal remit going in to Saturday's bout, then Henderson failed. When asked directly whether or not Henderson had done enough to contend for the belt at this moment in time, UFC President Dana White answered simply and definitively, "No."
It seems that all Henderson succeeded in through victory was knocking off a fellow contender in the division, limiting the number of matchups that Pettis could have on his return. It will likely take a few more wins from Henderson before he will be considered for another shot at the gold, considering he's unlikely to make a show-stopping statement as finishes have not been a part of his repertoire since 2010, but for the UFC to put him in with any other potential contenders in the division will be verging on negligence. Henderson is a top level fighter and will likely enjoy success over all but the top 1 or 2 at 155lbs, and having already removed Thomson from the title equation, a fighter who risked his No.1 contender spot last night, Henderson could well find himself in MMA purgatory as the UFC looks to safeguard any future challengers for Pettis.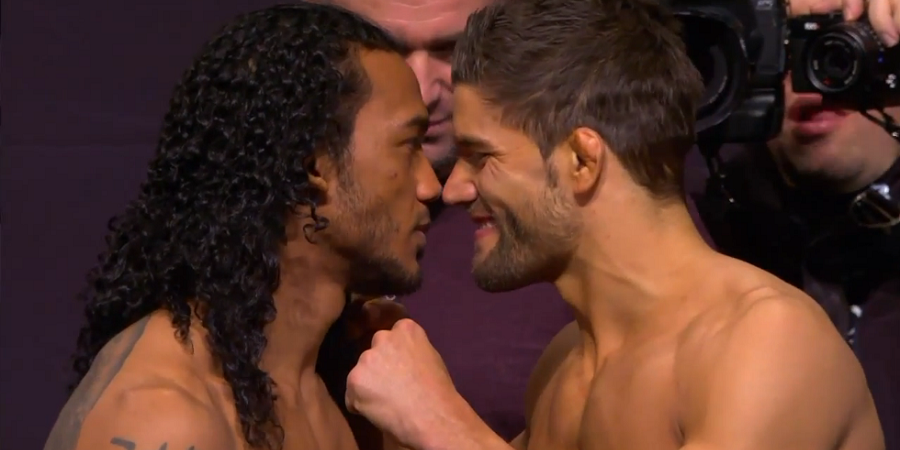 With both Thomson and Henderson now out of the title picture for the time being, the current pool of contenders shrinks ever more, with former Strikeforce champ Gilbert Melendez the early frontrunner pencilled in for Pettis' return from injury around July/August time. Past Melendez, we have Khabib Nurmagomedov, the man that seemingly no one wants to fight; Nate Diaz, who likely needs another big win before contesting for the belt; and TJ Grant, remember him? He was the guy who secured a title shot last May, only to knock himself unconscious in BJJ training and he hasn't been seen since.
The best thing for Henderson to do right now would be to engage in a battle that would bring out the best in him and have the fans and media alike talking about him in a positive light again, rather than just the guy who splits opinion as well as he does judge's scorecards. With Henderson unlikely to be paired off with another potential title contender, there are few bouts that would actually make sense.
The only fight that comes to mind as one that would ensure relevancy for Henderson in the division, yet not risking another competitor's title run whilst showcasing the best Henderson has to offer, is Donald Cerrone. Yes, Henderson has already defeated him twice but that was an age ago, a completely different time when cage canvases were electric blue instead of dishwater grey. Henderson-Cerrone I was the 2009 fight of the year and with 'Smooth' in desperate need of a perception altering fight, no one is more likely to bring that out in him than Donald 'Cowboy' Cerrone.