Last night's UFC event in Brazil was all about the middleweight division and the race between Lyoto Machida and Jacaré Souza for 185lbs title contendership now that their good friend and training partner, Anderson Silva no longer reigns atop of the division.
UFC Fight Night 36 was supposed to create a clear and defined challenger for Chris Weidman's belt, should he get past Vitor Belfort at UFC 173 of course.
It didn't.
All in all, it was not the most exciting card that the UFC has put on and actually tied UFC 169's record for most decisions on a fight card, with 10 of the 12 scheduled bouts keeping the judges employed.
It was to be the only two finishes of the night, Erick Silva's KO of Takenori Sato and Charles Oliveira's submission victory over Andy Ogle, that would take home the UFC's new fight bonuses of 'Performance of the Night'. A duel award designed to reward a fighter's overall performance rather than just a spectacular knockout or submission, like Silva's and Oliveira's.
After Silva's destruction, it was time for the co-main event of the evening, with Jacaré and Francis Carmont taking centre stage in act one of the UFC's pursuit for a middleweight title contender.
Jacaré was the clear victor but failed to dazzle in the way he previously has and needed to in order for him to position himself at the front of the queue.
Whilst displaying complete and utter grappling mastery, Jacaré was unable to secure the choke he worked the best part of the fight to cinch in. Whereas on the feet, we saw Carmont look the finer despite the rapid improvements Jacaré had appeared to be making in recent performances. This could be down to Carmont's background in kickboxing, or down to a nagging elbow injury that required a doctor's clearance prior to this bout.
Despite not making quite the statement he, and many others, had hope for, Jacaré still triumphed and in doing so ensures his place in the top 5 of the division and that his name remains "in the mix."
With the conclusion of the co-main event and the general feeling that Jacaré was still one or two fights away from a shot at the gold, all eyes and attention moved forward to the main event.
Lyoto Machida vs. Gegard Mousasi was looked upon as a stylistical dream. Machida's feints, timing and movement vs. Mousasi's stoic and cerebral kickboxing game, this was meant to be as close as MMA is likely to ever be to a chess match.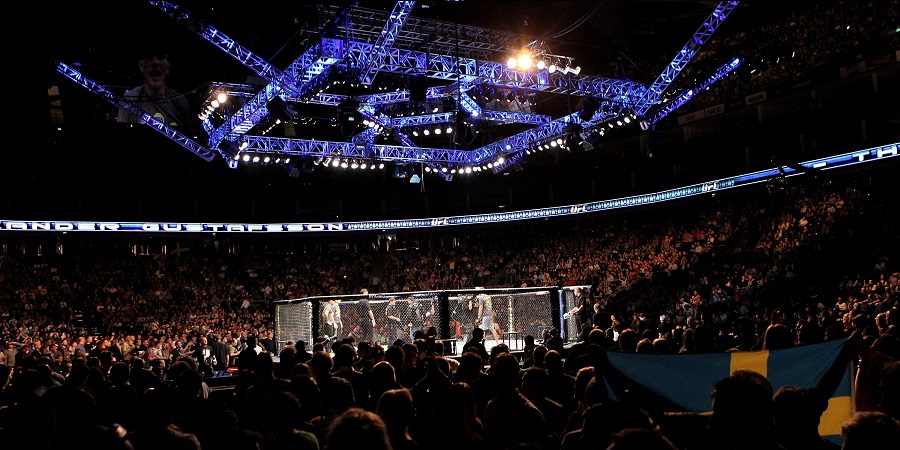 Apart from a few early leg kicks and half a round of ground control, Mousasi in fact offered little other than proving he has a solid chin. This is not to say that Mousasi is not a threat at 185lbs, far from it. Mousasi is right up there in terms of technical ability and killer instinct, it's just that Machida proved to be far too quick and elusive for him to mount any form of serious offence.
Machida was the clear winner and dominant, but when observing the Brazilian at work, we are very much at the mercy of the motives of his opponent. If they are willing to engage, we are in for a masterclass in counter striking and pinpoint accuracy from Machida.
However, if like Mousasi they favour a more patient approach, we are left with a conservative Machida that prefers not to meaningfully press the action as often as we feel he is capable of, content to wait and wait until he "explodes" with a few darting shots that land without any real brutality.
While the latter Machida is still a testament to the man's supreme skill and technique, it is this incarnation of the former UFC Light-Heavyweight champion that has fans struggling to connect with the fighter as much as his opponents do.
With UFC officials already adopting a wait-and-see approach in terms of the next contender to the belt, especially as the title is already on the line at UFC 173 in May, and with Jacaré talking of surgery to clear out his elbow, as well as Machida leaving the arena in an air cast with a suspected broken foot, it appears unlikely that a decision will be made any time soon.
For me, a rematch with Luke Rockhold, the man who deposed Jacaré as Strikeforce Middleweight champion, makes the most sense for this particular Brazilian, whereas Machida would be best served to wait for the clouds around contendership to disperse and see where his name ends up after Weidman and Belfort do battle.
Remember to give @WHOATV a follow and like our Facebook page for the latest MMA news, interviews and opinions.