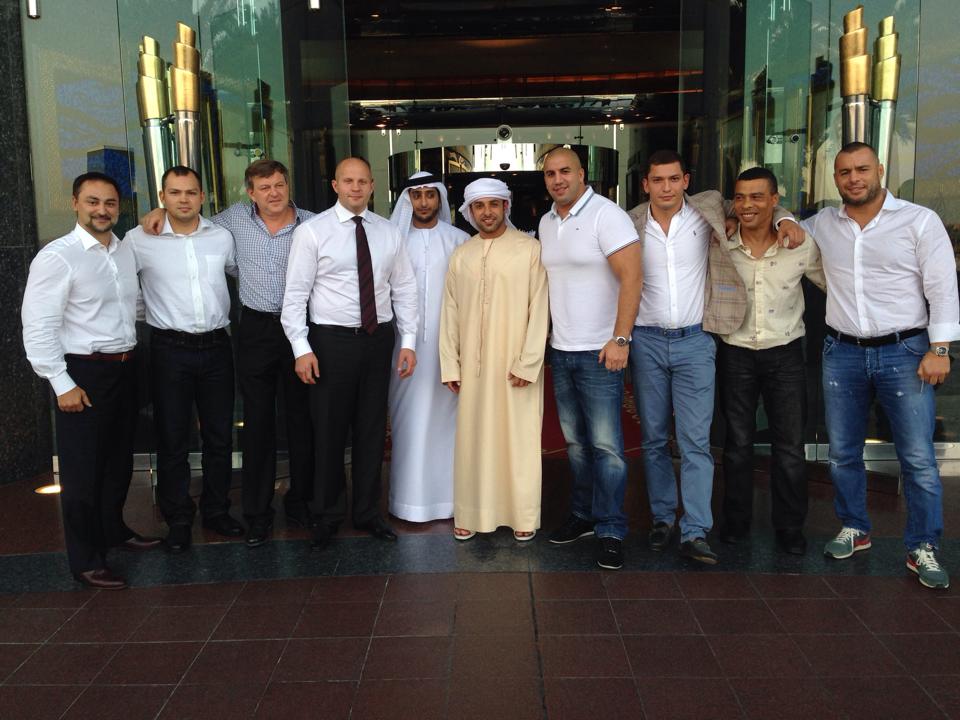 Sitting across the table in his two piece suit Fedor Emilianenko cuts a contrasting figure. To a few detractors he is seen as untested as he never stepped into the Octagon to face the UFC's finest but to many legions of fans he's widely considered, in mixed martial arts terms, the greatest of all time.
He seems comfortable in his pristine attire. Gone is the well worn sweater beloved by many as the 'Sweater of everlasting doom' in its place a designer two piece suit giving him the air of a politician rather than the feared martial artist we all remember. The new suit is possibly symbolism for a new beginning for  'The Last Emperor' as he seems more sure of the future that he is carving out for himself post fighting.
He's in Dubai at the request of ex fighter and serial entrepreneur and owner of GLORY MMA Tam 'Brown Bomber' Khan. WHOA! TV had burning questions which he was all too pleased to answer via Tam Khan's team.
WTV: How do you think your legacy your legacy is being remembered, do you still have the itch to fight again?
FE: I still train but not as intense as before. I am always very happy to share my skills and in a way I'm helping to develop this sport.
WTV: What do you say to critics who argue you have not fought the best?
FE: There are always people who want to say something who are never satisfied. I never chose my opponents I fought everybody who they'd give in Pride in Strikeforce, Affliction and M1 I never chose the opponents I fought whoever they put in front of me.
WTV: The UFC are very vocal about their wish to put on shows in Russia is this something you would come out of retirement for?
FE: I'm done I will not be coming out of retirement but I will be there only as a guest.
WTV: What would class as your greatest test to date in MMA and what did you take away from it?
FE: I would like to underline to fighters Nogueira and Cro-Cop. Both of these fighters are like thinking fighters. Nogueira's game off his back is very strong and Cro-Cop has good stand up.
WTV: How do you rate the crop of heavyweights on the UFC roster are there any that you particularly would like to have faced.
FE: I cannot think about facing someone as I am done. I do really like Cain Valasquez, I think if he sticks to his usual game he will win in his upcoming fight. His biggest advantage is he can switch from one thing to another, he is a thinking fighter.
[Many thanks to Tam Khan and Ali Mokdad for making this happen. Below is the latest WHOACAST which contains the entire Fedor QnA ]