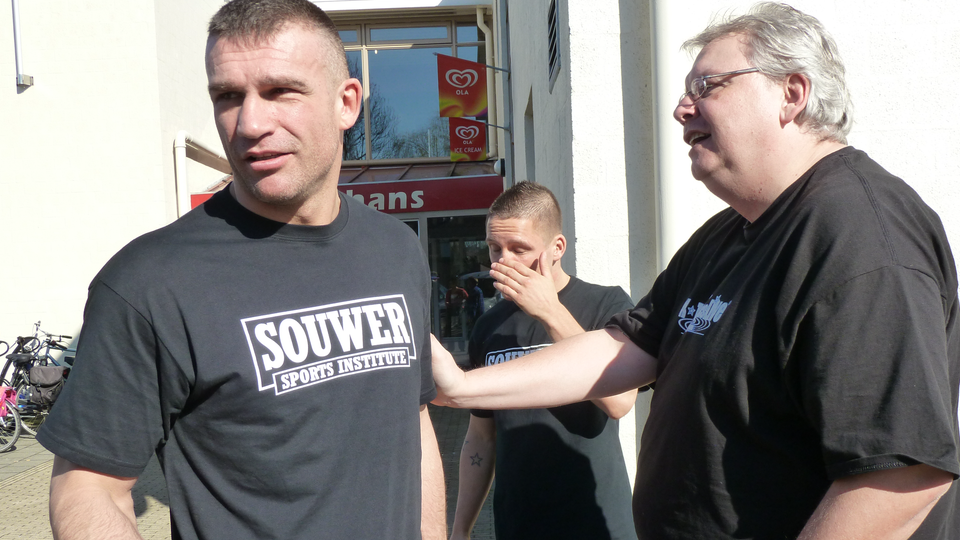 Recently, I had the opportunity to interview one of the movers and shakers in the European sports management world, Frank Mach. I'm sure you'll find, as I did, that the role of manager is a complex and delicate balancing act that requires a lot of planning, consideration of client needs and the ability to make smart business decisions. What I learned is that to be a good manager also requires both insight and vision. Frank appears to have all that and more.
SW: How long have you been a manager?
FM: Business wise I have been around 20 years involved in management in commercial functions, mainly as head of controlling, commercial manager or financial manager in medium range companies as well as groups.
Since 2006 I have been involved in sports business and sports management. Since 2009 I have run my own company called StarCreator which is my full time profession now.
SW: How did you get into sports management?
FM: Ah, that's a nice story. In 2006 I had the idea to hold workshops with K-1 stars on a regular basis. Today it's quite well known as K-1StarsLive label. I somehow started on the green with no experiences in that field. Many of the big names in the sport did their first seminars with us and still do. Now we are 8 years alive and organizing with partners worldwide. Not only the portfolio (single workshop to education and high end management seminars as well as training camps) grew, I also got more and more into contacts with fighters and promoters. So it was a good and logical step to make a smooth switch from the commercial industry business (construction & automotive) to sports management. The background I got from my former profession has been a very good base for sports management. If you know how to manage companies and to deal with business partners on a top level, it is easy to manage sportsmen as well.
SW: How does the fighter-manager relationship typically begin? Do they contact you or do you see someone that you think shows a lot of promise and contact them?
FM: There is no typical start for a relationship. When you are in the beginning and nobody knows you, it's difficult. Later when you have built your references its more 'easy'. That's it in general. You know fighters/sportsmen; you know companies, promoters, give advice and connect people, that's it.
I had some mentors in 2006 in the very beginning. Charles Heus, the manager of Remy Bonjasky was a very good mentor, also Eddy Coutinho the manager of Andy Souwer. But they were confronted with something new, the seminars idea, so I was innovative and took a big risk and investment for my idea. They liked me and the project and the relationship grew over the years. I never intended to manage fighters or sportsmen from the beginning. It just came step by step.
The first step for me was me bringing Kamal El Amrani (former Superleague) into team Souwer. Team Souwer was interested in Kamal, I knew Kamal from the workshops and his gym build up.
I came in touch with Danyo Ilunga and took over his management in 2010 when I was involved as a consultant for a fight event in Germany. Then the connection to Remy and building up the new team. Now everybody can see that Danyo is getting bigger and following Remy's steps. We are team workers and make the big decisions within the team with Remy, Asmir and Danyo.
After Danyo appearing at IS and now Glory I got many requests for management. Now I have around 10 fighters but we are also holding our training camps and the Rough Diamonds League (RDL) (event Series for runner ups) which is also a great place for scouting.
Janosch Nietlispach was discovered at a training camp. Next year you will see him on the big stage, I am pretty sure. He is also part of our team with Remy.
Pascal Schmidt came via a training camp and Nusret Ainto won the RDL tournament on 19. October.
Of course we are interested in big names management but we also dig in the dirt to discover those rough diamonds who might be able to be champions in 2-3 years.
In general there are many many different ways. But you can say big names or experienced fighters contact me and runner ups are contacted by me.
SW: Who are some of the fighters that you manage?
FM: I think the most known fighters are Stefan Leko, Danyo Ilunga, Janosch Nietlispach, Cristian Milea, Karim Allouss, and Berat Aliu. I also do partial management of Baker Barakat, Florian Marku and Muamer Tufekcic.
SW: Do you manage only fighters?
FM: Yes I am specialized. In the beginning I had some extreme sportsmen like apnoe divers, freestyle snowboarders and even a famous personal trainer but it is too time consuming and too difficult to care for different sports and their specialties. I have some deep knowledge of the fight sports market and of course a big network. Sometimes there are some cross connections but I don't take any other sportspeople although I had some really interesting people in front of me. We have a certain capacity and there is always room for new people. But it should be the right ones.
SW: Besides securing fight contracts for your fighters what are some of your other principal duties?
FM: That's very diversified. I care for marketing, media, sponsors, seminars, merchandise, Facebook and websites if necessary. I also try to place fighters as VIPs, for video productions, TV and everything that is marketable. But the general duty is to cover and plan the fighter's career for his active period and after career.
SW: What are some of the biggest challenges you face as a manager?
FM: With fighters: First find the right fighters. Keep them on track. Many talents are 16-17 years young everything runs fine until the first girlfriend, education or university enters their life, then the priorities change. So it happens that you waste time and work for the wrong people. Let's call it business risk…
Fighters who are quite successful have mostly the same problem. A very, very high percentage of professional sportsmen i.e. fighters live as if there is no tomorrow. They earn money; they spend all the money today. They don't want to understand that there will be a life after their active career. So with the beginning of their professional career there must be an after career plan in place. What about injuries that can kick you out of business for a longer period or in worst case forever?! This is a recurring issue and a priority task.
With sponsorships: to find the right partners for a long-term growing relationship to create a win/win situation on both sides. A sponsor is needed in the beginning of a career when it's necessary to cover travel/accommodations costs for training. Find sponsors that trust in your fighters and your vision.
With Danyo, for example I had a private person from Dubai who believed in my words and enabled the start for a more professional career. At that time Danyo was a good fighter and future prospect but not a top player. Now we are 3 years away from it and look at his progress!
With promoters: some promoters should take more risk on giving talents a chance. I see so many really good talents but promoters have their problems in engaging them as they act as tied networks. This is no good at all. Small promotions like our Rough Diamonds League enables any talent to show up and to show their skills. Sometimes I see C/B class fighters being stronger and more talented than some A class fighters. That's a pity. Example: Gzim Selmani a Kickboxing newcomer received a title shot chance on 19. October at RDL. He took home the Belt with a KO in R1. His trainer is Martijn de Jong, one of the matchmakers of Glory. Now Gzim owns a belt, fights MMA on a bigger stage and the loser of the match was offered a fight on a big MMA event.
So that's how it works. Promoters generally sleep while talents kick in the garage and only can't show up because they don't have the right environment, the right connections nor get a real chance.
SW: If you weren't involved in sports management what other profession would you have taken on?
FM: I would work in my old profession as Controller, chartered Accountant.
SW: What are some of your interests outside of work?
FM: I love to build up online and offline Startups. I am right now very busy with my own fashion brand:
www.RuhrpottChild.com
But I also like to meet friends and watch films or walk with our family dog. I like soccer (Borussia Dortmund) very much and I like to go out walking. In the past I was running at competitions for a couple of years and practiced Kickboxing and Muay Thai. Now with the business, I have a little more weight and have to choose the right things for me. I am reading a lot of magazines, books and biographies. I am interested in many different things, all kinds of stuff as I am open minded.
Before this interview I don't think I had fully conceptualized the role of a manager in the life of a sportsperson or their contribution to the events that I love to see. Moreover, I didn't realize that the role could be exhausting especially when dealing with top level performers. Somehow Frank manages to fit it all in, family, business and everything in between. We at WHOA! TV wish him continued success with all his clients and in his future endeavors!!