July 2013 was an exciting time for Irish MMA as one of its brightest amateur fighters, Sean Tobin (2-1), turned professional and won his debut by first round stoppage.
After a stellar amateur career and a great start to life as a professional fighter, people hopes and expectations in what Tobin could achieve grew higher and higher. Then came Mick Brennan to bash on everyone's parade as he defeated Tobin in the Corkonian's second outing. That experience is something Tobin will use to further his development as a fighter.
"I take the experience from that loss. I'll always feel it was a mistake taking a 5-round fight in just my second professional fight. I believe I had the first 3 rounds won but then I had nothing left in the tank coming out in the fourth and that is a feeling I'll never forget. But going through that has made a better fighter and I think that showed in my last fight when I got the win against very good opponent in Neil Ward. That was a good high paced fight I felt comfortable through out."
During that time Tobin also faced disruptive times as his gym changed over from The MMA Clinic to Trials MMA., a change that saw the gym becoming directly connected with American MMA veteran Ryan Schultz.
"The change over to Trials MMA has been a great one. I love having Ryan Schultz and his team involved with us. Ryan is based in Colorado but with us teaming up it means that he and others will be making regular trips over to Cork. I feel this will really bring our game to a new level. Likewise, I myself am aiming to travel to Colorado as often as I can and maybe fight there also. Exciting times ahead."
This connection between a bunch of fighters in Cork and a gym in Colorado might seem completely left field, so I asked Tobin how did the partnership between the two actually come about.
"The connection to Ryan and Trials came through TUF Season 5 contestant Noah Thomas who visited our gym on a training holiday. Noah spoke very highly of Ryan and got in touch with him when he got back to Colorado and told him about the potential we had here in Cork and and we worked out an agreement to bring Ryan over to coach for a month. During that time Ryan moved in with me and we really hit it off. From there he invited me to Colorado to train for the summer which I greatly accepted, during my time in America was when Ryan first started talking about getting involved with MMA in Ireland as he saw massive potential here, not just in our gym but when he's was in Ireland I took him to a couple of MMA shows and he was impressed with the standard. To make a long story short, when Kieran O'Brien Sr. & Jr. and I bought the MMA Clinic gym we wanted to go in a new direction, I spun the idea to them about teaming up with Trials and contacted Ryan to see if he was still interested and we went from there."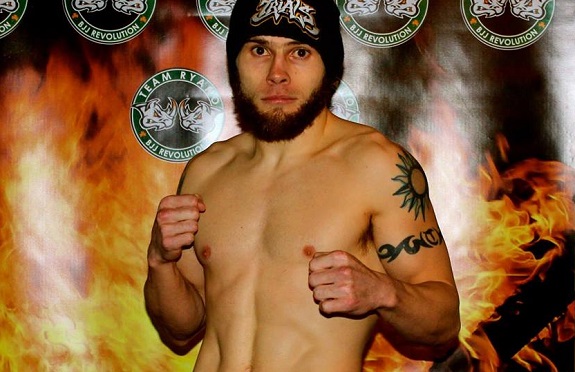 From being an amateur fighter to becoming a professional fighter, a gym owner and teaming up with an American gym as in the space of a relatively short period, life has certainly changed for Sean Tobin. But what about his responsibilities?
"The main responsibilities with the partnership I guess would come with keeping to a certain standard set by Trials. I like to think we already set a really good standard with MMA Clinic so the transition has been easy in that sense. As for myself, I work a lot harder and there's a lot involved with being an owner of the gym, coach and professional fighter but I'm really enjoying it. A lot of that comes down to my partners, Kieran and Kieran, I couldn't ask for better people to be involved in this with. They are a pleasure to work with they bring a lot to the table and are excellent coaches."
This weekend at Akuma FC 5 'The Machine' returns to the cage for the first time in 2015 and he faces a tricky opponent in James McErlean (3-2) and it is in the main event for the bantamweight title. The thoughts of fighting James for the Akuma BW Title is something that excites him.
"James is a very good fighter with an awkward style on his feet and very active on the ground. So I feel this makes for a exciting fight. If I was to say I had an advantage in any area it would be my wrestling as that's what I do best and I'm thought by the best in the business in Ryan Schultz, but I'm expecting this fight to take place everywhere and that's what I'm prepared for. Akuma is a fantastic show too so I'm honoured to be headlining the event. Fighting for their pro title is huge for me and I can't wait to get in there and I'll be proud to be the Akuma champion. I have been a big fan of the promotion and if I wasn't fighting on it I would be in the front row watching. Stephen Moore and his team do a fantastic job in producing one of the top shows around."
Akuma FC 5 takes place Saturday from the Templeton Hotel, Templepatrick, County Antrim.
(images via Sean Tobin's facebook page)