We have a round-up of promising fights that involve either veterans, exciting prospects and/or notable names happening in September from around the world outside of the major organisations such as the UFC, Bellator, WSOF, ONE etc.
Legacy FC 45, Oklahoma, USA, Sept 11th.
Andrew Todhunter (7-0) vs. Dylan Smith (10-5)
The undefeated Andrew Todhunter returns to the cage after being away for almost a year. During that time he was scheduled to fight at UFC 188 but passed out making weight. Now he is back in order to prove that he is ready for that UFC shot with a win here. He has won each of his seven contests by submission, five of which were in the first round.
Welcoming him back is Dylan Smith who is a dangerous grappler in his own right with eight of his ten wins coming via submission. Both men have competed on the same card in the past and will no doubt know each other well enough. This fight should be one for the grappling lovers.
Face2Face 12, Espirito Santo, Brazil, Sept 12th.
Pedro Rizzo (19-11) vs. Travis Fulton (251-50-10)
Two veterans of the game will collide down in Brazil. Former UFC heavyweight title challenger Pedro Rizzo has fought everyone in the game from Randy Couture to Fedor. Now the 41-year-old will return fir the first time in over two years and will face the American Travis Fulton who has an incredible record of over 300 fights, and they were only the registered fights.
Fulton has also fought just about everyone in the game too. The 38-year-old has slowed down slightly in recent years competing just ten times since 2011 as compared to fighting thirteen times in 2010 alone.
CFFC 51, Pennsylvania, USA, Sept 12th
Claudio Ledesma (11-5) vs. Louis Gaudinot (6-4)
After a five fight run in the UFC for Gaudinot, which saw him go 1-3 & 1 NC, he is ready to jump back in there against another big show vet. Ledesma fought for Bellator going 3-1. Both fighters are very well rounded and are incredibly durable and hard to finish. This has the potential to be a war.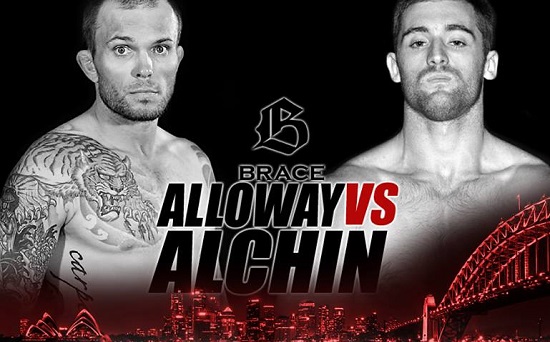 Brace 36, Australia, Sept 19th
Benny Alloway (14-6) vs. Rick Alchin (10-9)
UFC veteran Benny Alloway continues to fight in his native Australia after a stint in the European promotion Cage Warriors. He won he return fight down under earlier this year via KO and will be looking to build upon that in the main event of Brace 36.
He faces Rick Alchin. On first glance his fight record hardly impresses but on closer inspection he is a dangerous fighter who has won his past three fights, all via stoppages. With a total of eight submission victories he will surely offer a dangerous task for Alloway. With both men very well capable of getting the stoppage this should be an entertaining bout.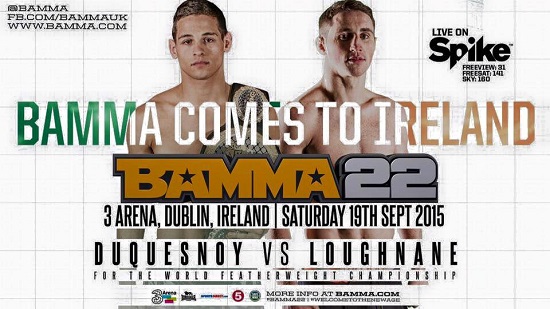 BAMMA 22, Dublin, Ireland, Sept 19th
Tom Duquesnoy (10-1, 1 NC) vs. Brendan Loughnane (10-1)
An outstanding fight between two of Europe's top featherweights will serve as the main event of BAMMA's debut show in Ireland. TUF: The Smashes contestant Brendan Loughnane has went 5-0 since his loss at the finale of the show in Australia. 22-year-old Duquesnoy has impressed everyone on the European scene with his ability to stop fighters. His only loss came to the UFC's Makwan Amirkhani when he was just 19-years-old.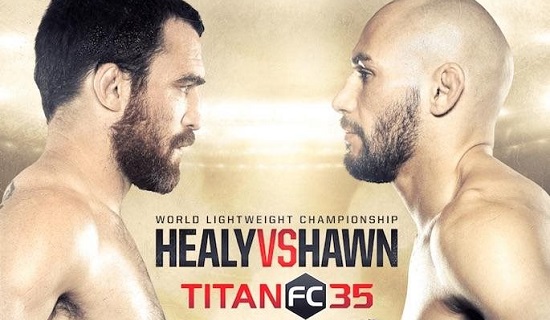 Titan FC 35, Washington, USA, Sept 19th
Pat Healy (32-20) vs. Rick Hawn (20-4)
Healy has been on a good winning streak since he left the UFC last year. After not registered a win in the promotion ha has since won three straight including winning the Titan lightweight title. He now defends his belt against veteran Rick Hawn. The 38-year-old fought fourteen times under the Bellator banner posting an impressive 10-4 record. The 38-year-old has won two straight since he left Bellator.
M-1 Challenge 61, Russia, Sept 20th
Marcin Tybura (12-1) vs. Ante Delija (14-2)
With Eastern Europe being a hotbed for undiscovered talent it is always good to keep an eye out on what's happening in that region. M-1 are amongst the top promotions out there and have an excellent heavyweight fight between Poland's Tybura and Croatia's Delija. With the UFC in need for heavyweights here we have two high quality heavyweights who are under 30-years-of-age.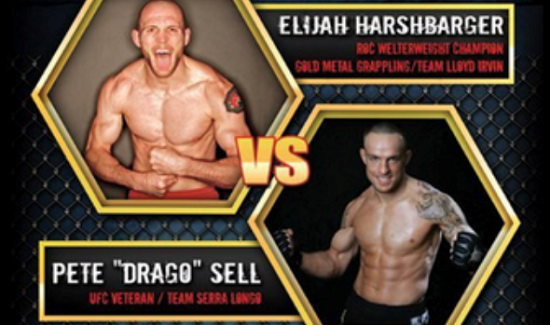 ROC 52, New Jersey, USA, Sept 25th
Pete Sell (10-6) vs. Elijah Harshbarger (7-5)
UFC veteran Pete Sell returns to the cage after three and a half years away. Known to the masses as 'Drago', Sell competed on the TUF Comeback season and went 2-4 overall in the promotion. This will be a rematch of their 2011 fight where Sell won via submission. Both guys are 33-years-old and have a wealth of knowledge and experience between them.
You may also like: