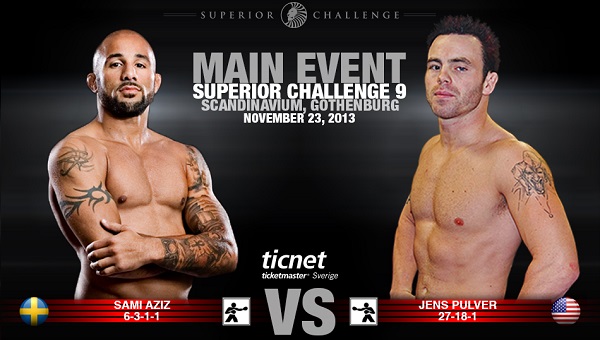 With MMA growing across the board both in local shows getting bigger and more high level international promotions popping up and hosting regular events it can be quite hard to keep track of everything happening. Sometimes there are fights that slip through the cracks, fights that involve some of the best up and coming talent and fights that feature well known names.
Well we got you covered! Here is a list of some notable scraps taking place all around the world this weekend that we feel it is within your interest to take note of.
Bellator 108, Friday, November 22nd, USA.
A possibly explosive middleweight title fight between champ Alexander Schlemenko (48-7) and Doug Marshall (18-6) acts as the main event this Friday night. The pair share a massive 40 KO's between them. Marshall will be looking to win for the forth time in 2013, while Schlemenko will aim to extend his 11 fight streak.
The unpredictable and always exciting Michael "Venom" Page (5-0) will be showcasing his skills against Andrew Osborne (7-7). This fight is all about Page what he will do next and he continues to learn and grow.
Terry Etim (15-5) makes his first post UFC appearance after fighting eleven times for the promotion. The 28-year-old submission specialist will face KO artist Patrick Cenoble (9-2-1).
Resurrection Fighting Alliance 11, Friday, November 22nd, USA.
The promotion has become synonymous with being a feeder promotion for the UFC and is spearheaded by all-round MMA nice guys Ed Soares. Prospect Raoni Barcelas (6-0) will test himself against WEC & UFC veteran Tyler Toner (14-5). What is intriguing about this fight is that the Brazilian Barcelas has finished four of his opponents via TKO/KO and Toner has yet to be finished in that manner.
Superior Challenge 9, Saturday, November 23rd, Sweden.
Former UFC champ Jens Pulver (27-18-1) will make his European debut in top Swedish promotion Superior Challenge in Gothenburg. He will face 41-year-old Bellator veteran Sami Aziz (6-3-1-1). Pulver is long past the glory days of his career but continues to be competitive in various promotions around the globe and is 5-4 in his past nine bouts.
UK fighter Danny Mitchell (13-4-1) steps in on late notice to face UFC veteran Beam Yousef (6-2). Mitchell replaced David Bielkheden in the co-main event and is a more than fitting replacement and is 4-1-1 since 2011. Yousef fought on both of the UFC's visits to Sweden losing on both occasions, he will be looking to regain the form that saw him start out 6-0.
Please like WHOA! TV on facebook and follow us on Twitter @WHOATV.