Satoshi Ishii, 2008 Olympic gold medallist in Judo, 12-2-1 MMA record and just 27-years-old.
Ishii made his pro MMA debut in 2009 in a losing effort to fellow Judo gold medallist Hidehiko Yoshida, who had already established a solid career in Pride fighting some of the worlds best. With a unanimous decision defeat it was a massive learning curve for Ishii and for the next two years he went undefeated posting a 4-0-1 record beating the likes of Jerome Le Banner and Minowaman.
Then in 2011, exactly two years after making his pro debut, he went up against, a man who many regard as the greatest of all time, Fedor Emelianenko. It ended up being the young Japanese fighter's second loss but it is also is last loss to date.
Since then Ishii has went up against and defeated a host of former UFC talent in a fight resume that would eclipse most of the current heavyweights in the UFC. That resume includes; Pedro Rizzo, Jeff Monson, Sean McCorkle, and Tim Sylvia. This past weekend Ishii added another big name fighter to that ever growing list of former UFC talent. He defeated Phil de Fries by unanimous decision in the main event of an event in Japan.
At 5ft 11in tall and weighing roughly 240lbs he is a candidate to compete in both the UFC's heavyweight and/or light heavyweight division. A fighter like this with his experience in MMA and his Olympic credentials seems like a fighter the UFC should be doing anything to sign.
He has competed in Russia for M-1, he also fought in Brazil and New Zealand but most of his fights have been for the IGF promotion in Japan. That could be sticky for the UFC should they pursue him as his relationship could be good with the promoters and no doubt he is receiving a very good purse for each fight.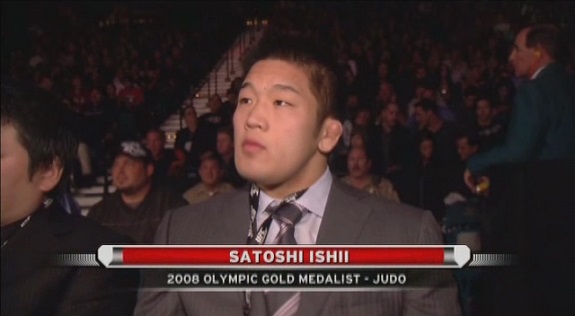 However, he has expressed an interest in the past to gain American citizenship and compete for the nation in a future Olympics. This never came to fruition but it could prove to be a silver lining in an attempt to sign him.
Ishii has also been to a couple of UFC events and met with Dana White but talks about joining the promotion seemingly fell apart. But at least it is known of his previous desire to join the UFC, whether or not he still has that will remain to be seen.
In my opinion the UFC need the best fighters in the world in their promotion and he is no-doubt one of the top tier heavyweights on the planet.