Former UFC champ Rich Franklin could be on his way to another promotion… not as a fighter but as a Vice President. That promotion is ONE FC, a massive promotion based in Asia.
Franklin released the news via his Facebook Page and stated that such a move has the blessings of Dana White and Lorenzo Feritita.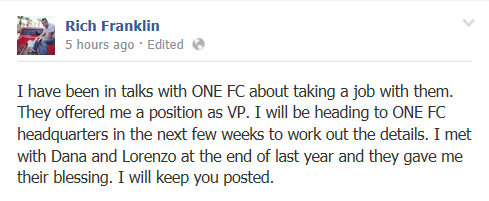 The 39-year-old hasn't fought since a KO loss to Cung Le in November 2012 and has been more focused on his own juicing businesses. He has however stated in the past that he does intend to finish out his UFC contract and fight one last time.
Alan's Angle: I was not expecting anything like this. For ONE FC this is a great move bringing such a respected figure in MMA to their organisation. Not only could he bring his knowledge and expertise to the organisation but he will also bring some much needed international publicity and validity.
Should he come to terms with ONE FC I really don't know where that leaves Franklin and 'one last fight'. It would be a shame if we never got to see him compete once more.