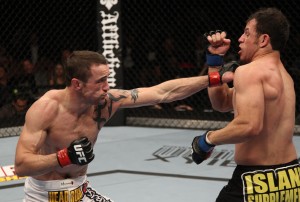 The Ultimate Fighting Championship today confirmed that UK lightweight Paul 'Relentless' Taylor is retiring from the sport due to injury.Taylor, who has an MMA record of 11-6-1, was due to take on Anthony Njokuani at UFC Manchester 2013 in October, but injury forced him to withdraw from the bout.  Taylor has not fought since February 2011, where he defeated Gabe Ruediger via KO at UFC 126.
Winning Fight of the Night bonuses on three occasions, Taylor was known for his exciting striking style and was a very popular fighter among UFC fans.
Originally from Walsall, England, Taylor also trained in Liverpool.  He made his UFC debut in 2007 in Manchester at UFC 70 where he defeated Edilberto Crocota via TKO in a welterweight bout.  He moved to the lightweight division in 2010.
We at WHOA! TV would like to wish Paul all the best and hope to see him continue in MMA in some capacity away from the Octagon.