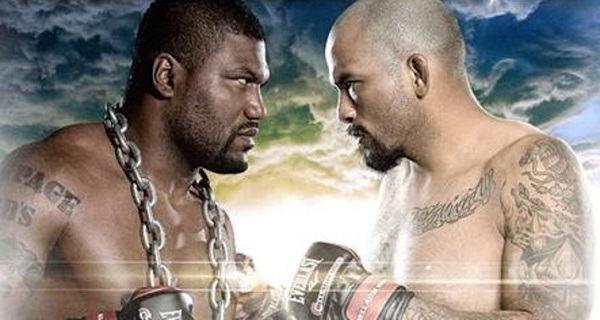 Last night marked Quinton 'Rampage' Jackson's Bellator debut and well…he actually looked good. Ok, point taken that he was fighting Joey Beltran but still, Beltran is no slouch and if you are a high level fighter you will churn in a good performance against a lesser opponent.
Rampage (33-11) done just that with a TKO right on the end bell of the first round. What was impressive about his performance was his head movement and how sharp he looked. He avoided Beltran's jab and always looked to slip and counter.
Beltran (14-10-0-1) used good footwork and stayed on his toes to avoid oncoming punches and then tried a little bit of wrestling against the cage but done very little damage to Jackson, in fact on the breaks Rampage was fast to land punches. In the final moments of the round Jackson came forward with punches forcing Beltran against the cage leaving him nowhere to go and 'The Mexicutioner' got dropped by a hook that clipped his chin.
This is Rampage's first TKO/KO win since 2008 where he beat Wanderlei Silva at UFC 92.
Elsewhere on the night Vitaly Minakov (13-0) dominated fellow Russian Alexander Volkov (19-4) to become the new Bellator heavyweight champ. Minakov got Volkov to the ground and landed some ground and pound to get the 1st round TKO win.
Patricio Freire (21-2) looked really good with his first round TKO over Justin Wilcox (13-6) to win the season 9 featherweight tourney. Crisp and hard punches from Freire seemed too much for Wilcox to deal with as he succumbed to a series of punches two minutes into the first round.
Also on the card Tom DeBlass (9-2) won with a one-punch 1st round KO over fellow UFC veteran Jason Lambert (26-13). Deblass threw a left hook as Lambert was throwing a left of his own but very sloppily dropped his right hand handing a clear path for that left to land right on the button.