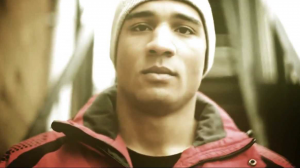 On September 14th BAMMA will hold its BAMMA 13: Night of Champions event from the National Indoor Arena in Birmingham. The card features an impressive array of talent including former Bellator welterweight Jimmy Wallhead and UFC veteran Curt Warburton. However, it's the main event where the eyeballs are firmly fixed. Dutch judoka, Jason "The Villain" Jones, battles the Swede, Max Nunes; who is the follow-up to the debut edition of WHOA! TV's Prospect Watch. 
Sweden is a country that has been producing some extremely exciting talent over the past number of years. Alexander Gustafsson is leading the way for the Scandinavians. As Gustafsson prepares for the biggest fight of his career against the top ranked pound for pound fighter in the world Jon Jones, another Swede looks to make big waves in Europe.
At just 24 years old – Max "Power" Nunes looks to continue his momentum in the world of mixed martial arts. He's an impressive athlete, to say the least. Standing at 6 feet 1 inch tall, he had the opportunity to pursue Basketball. As a youngster he played Basketball and impressed. He stopped playing the sport for some time, but eventually picked it up again, then played for four years straight. But it was too late; he started to train in MMA at 18 and never looked back. The MMA bug had bitten him.
He shares some parallel qualities with our first subject, Brandon Thatch. Both men are undefeated and they are finishers. With a professional record of 11-0, boasting six knockouts and five submissions, it's difficult not to be impressed with the light heavyweight. Furthermore, he has a name that is reminiscent of a Simpson's episode – Max "Power" – this makes me an instant fan.
What make Nunes incredibly impressive are the constant improvements he displays from fight-to-fight. In 2012, Nunes fought a whopping six times. His final bout of the year took place in BAMMA, the promotion he looks to clinch championship gold in. Nunes flaunted his improvements once again, exhibiting his ground-game, in devastating fashion, against knockout-artist Kevin Thompson.
Nunes exchanged with Thompson, showing a variety of different techniques including a jumping roundhouse kick. He used his striking to get the clinch and immediately got takedown. It was Nunes' top-game where we saw vast improvements. Thompsons done well to secure full-guard after Nunes was successful in transitioning to side-control, but it was inside Thompson's guard where the real damage was done. Nunes postured up and landed pin-point accurate punches from guard, finishing Thompson's night with a devastating left straight from the top.
With six fights in 2012, Nunes expressed his desire to fight the same number of fights in 2013. His fight next Saturday will be his third of the year, and certainly his toughest. Nunes takes on Jason Jones to crown the first BAMMA Light Heavyweight champion. Jones is by far the most experienced fighter that Nunes has faced in his career, thus far. With a total of 29 fights under his belt, the Dutchman will have heaps of confidence leading into his fight with the far less experienced Nunes.
Jones, who owns a black-belt in Judo, has competed against numerous high-calibre opponents; this includes fights with Murilo "Ninja" Rua and former UFC middleweight Riki Fukuda. He made his BAMMA debut against Przemyslaw Mysiala. Showing off his grappling prowess Jones immediately took the fight to the ground. Ultimately Jones got back control and overwhelmed the Pole. The fight was stopped due to a deep cut on the forehead of Mysiala.
Nunes enters the bout on the heels of a first round destruction of Justin Davis. His last fight in BAMMA was a co-main event slot. This time he is the main attraction. In a situation where many fighters would get nervous, Max Nunes looks to thrive. Nunes exudes confidence, a confidence which is only strengthened by the group of training partners he surrounds himself with. He is coached by WHOA! TV's own – Dean Amasinger –and sharpens his skills at New Wave Academy. He has also trained with the likes of UFC fighter Jimi Manuwa and former UFC welterweight Nick Osipczak.
Leading up to his championship fight with Jason Jones, Nunes travelled to the United States to train with some of the world's elite fights at Alliance Training Center.  During his time at Alliance, Nunes kept the world updated, through his Instagram account, on the talent he had worked with. This included fellow Swede, Alexander Gustafsson, UFC 164's Brandon Vera and Japans Yushin Okami, just to name a few. He also spent some time at Mark Munoz gym, Reign Training Center.
WHAT TO LOOK OUT FOR
Expect improvements, a lot of improvements. Nunes is constantly looking to improve in each aspect of fighting. Look for some new techniques on the feet and the ground. His training camp in Alliance Training Center couldn't have hurt, either.
If he attempts any takedowns, look for him to close the distance and get the clinch. It will be a difficult deed to take the judoka, Jason Jones, down but Nunes has a beautiful body-lock takedown from double under-hooks. While in the clinch, look for knees too. Nunes likes to get the plum-clinch and land devastating knees to the face and body of his opponent.
Expect a variety of stand-up techniques. Nunes has always been an excellent kicker; he likes to throw the left high-kick and kicks to the leg. But he uses his hands to equal effect. He throws a lot of straight punches, including a beautiful left straight the head.
If the fight goes to the ground, look for Nunes' ground and pound. The punches he lands from top position are similar to his standing strikes, straight and accurate. Look for Nunes to posture up from guard and land damaging strikes. He can finish a fight, even from his opponents guard, and in an instant. Don't blink.
WHEN TO SEE HIM NEXT
Watch Max "Power" Nunes take on Jason Jones to crown the inaugural BAMMA World Light Heavyweight Champion on September 14th live on 5* with highlights on Channel 5. If you're in the United States catch all the action on AXS TV and The Fight Network in Canada.