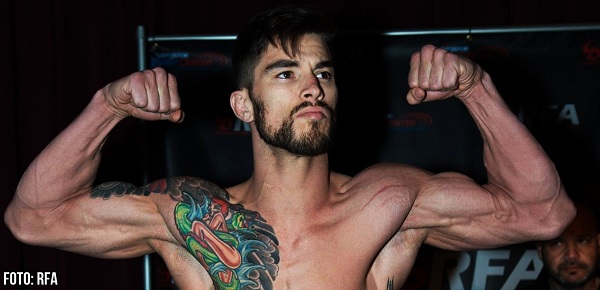 Just when we thought we could relax for a minute following UFC Fight Night 26, the sophomore effort on Fox Sports 1 for the promotion has crept up us. With an extraordinary amount of hype on Featherweight prospect Conor McGregor; we have forgotten about another highly-touted prospect, Brandon 'Ruckus' Thatch. Brandon Thatch, who is set to make his promotional debut tonight, is the first subject of WhoaTV's Prospect Watch.
Among the hardcore audience, a name that has been on the lips of many in recent years is Brandon Thatch. The 28 year old has been dominating competition on the regional circuit since 2008; racking up a 9-1 record for his troubles, with his only hiccup being a split decision loss in his second professional fight.
I know what you're thinking. Why all the fuss? Well, please excuse me while I reach into my big bag of MMA clichés and mention that he is a finisher. It's overused, I know. But in this case it's warranted. The welterweight, who sharpens his skills under Trevor Wittman at The Grudge Training Centre, has a 100 percent finishing rate with six knockouts and three submissions on his professional record. We might say he is a well-rounded finisher.
Clichés or not, we should give credit where credit is due. Not only has Thatch finished all of his opponents, he has finished all of his opponents in the first round. This includes an impressive TKO stoppage of Chidi Njokuani, the younger brother of UFC lightweight Anthony Njokuani.
The hype behind Thatch isn't just coming from fans and analysts of the sport. UFC welterweight king Georges St. Pierre is a big supporter of 'Ruckus'. St. Pierre has used Thatch in the past to help him prepare for both Carlos Condit and Nick Diaz.
"I first saw Brandon Thatch before my fight with Carlos Condit," St-Pierre said. "I was impressed. I brought him into my training camp, because I needed a guy who had a similar style. Plus, he can switch left-to-right and was one of the best strikers I could work with. He returned to Montreal and helped me prepare for Nick Diaz and it was good, because we worked really well together."
That being said, I will address the elephant in the room. Brandon Thatch 'hasn't done UFC' yet. That's fair statement; he's just being doing that 'MMA' thing. Don't get me wrong, the best fighters in the world are in the UFC. There's no doubt about it. But that doesn't mean that every fighter outside the UFC is inferior. In some cases they just haven't got the chance to fight on the big stage.
That statement doesn't apply to every fighter of course. But it does apply to blue-collar prospects like Thatch. We can only judge them on their body of work, and speculate how their skills would match up with the current batch of UFC competitors. Justin Edwards is a real litmus test for Thatch. Edwards enters the bout with four appearances under the bright lights, amassing a 2-2 record. Edwards's confidence will be high following the biggest win of his career over Josh Neer. Although that fight was way back in October of 2012.
Apart from Thatch's physical skills, his mental strength is what impresses me most. He is a fighter who has grown up with the sport. His father, Clarence Thatch, is one of the pioneers of MMA. He competed in kickboxing and boxing and is an accredited MMA judge. His grandfather was a boxer also. Thatch knows the fight game inside-out, and growing up around combat sports must have played a huge factor in building Thatch's mental strength.
What to look out for;
-Thatch is a quick starter, he likes to get the job done in the first round, and as early as possible (see the Jory Erikson fight). But Edwards is an aggressive starter in his own right. Expect both men to come out quick and aggressive.
-Thatch's furry red vest made for him by his grandmother. He calls it his armour and lucky charm.
-The rear-naked choke which Thatch has a knack for. He has three stoppages by submission, all of-which are rear naked chokes.
-The ground and pound, if Thatch gets top position look for a barrage of punches which he often uses to set up his guard passing, especially his pass to back control.
-His funky hairstyle which is a cross between Dan Hardy and Mike Pyle; don't act like you're not impressed.
A finish; I'm expecting a good performance from Thatch which usually means a finish. But Edwards only has one decision win on his professional résumé, he will surely be looking for the stoppage too.
A unique celebration; if Thatch picks up the victory, look for him to kneel with his back to his opponent while looking out into the crowd. This usually coincides with medics cleaning his up opponent's bloody face.
Watch Brandon Thatch make his UFC debut against TUF 13 contestant Justin Edwards. Live, tonight, from 10pm UK/Ireland time on Facebook; followed by prelims and the main card on BT Sports 1 at 11pm. (He will fight on BT Sports 1 at approximately 12:00am, but that's a rough estimation).