Over the weekend Bellator surprisingly announced the signing of former UFC title challenger Josh Koscheck. The TUF 1 veteran, who fought in the UFC an amazing 25 times, signed a 'multi-year' deal with the promotion.
Straight away 'Kos' set his sights on former foe Paul Daley by posting the following status on his facebook page.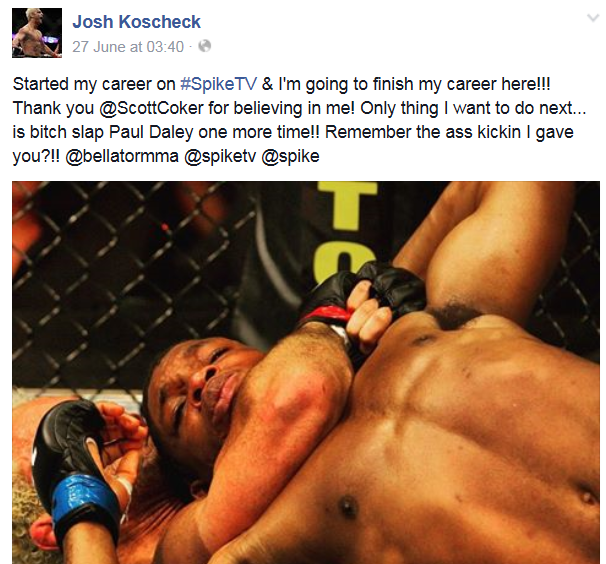 Daley almost immediately replied in the comment section:

If you are not aware, Daley vs. Koscheck I took place in 2010 and became one of the most infamous fights in UFC history as Daley landed a punch after the final bell, a move which prompted the UFC to release the explosive welterweight.
I sought out a few comments from Daley about possibly fight Koscheck and he seems pretty confident the fight will happen.
"Daley vs Koscheck 2 is a massive ratings event," he said. "I'm sure the fight will happen."
However, he says he is solely focused on his next challenge which is a fight against Dennis Olson at Bellator 140 and moving towards a title shot.
"For now my focus is July 17th versus Dennis Olson, and a future title shot."
I also asked Daley for his opinion on the upcoming Bellator: Dynamite card, which will also feature Glory kickboxing bouts, and he displayed his happiness in being able to compete in Glory while still being a Bellator fighter.
"The Bellator/Glory card is massive. I was keen to continue kickboxing when I signed with Bellator and this is an opportunity for me to do that on a big stage."