Meet Patrick "Durkin" Cummins, a standout collegiate wrestler who walked onto the Penn state wrestling team (almost unheard of) and after college he made two National Teams before starting a career in Mixed Martial Arts.
Making his professional debut in 2010 in Strikeforce, he made quick work Terrell Brown, who was 2-0 at the time, defeating him by TKO in the first round. He followed this win with three more first round wins over Tasi Edwards, Ricky Pulu and Willie Smalls, all of whom have a current combined record of  7-19.
Cummins has been a touted prospect in MMA with many, pre-UFC, predicting a bright future within the sport.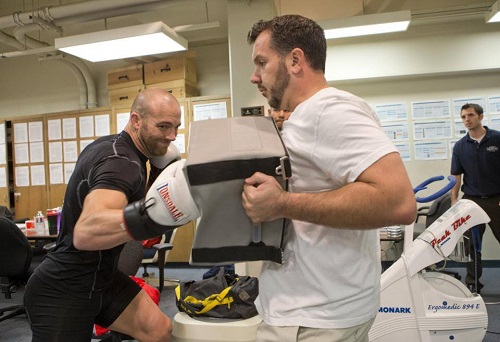 Now this Saturday at UFC 170 Cummins will make his UFC debut and it will be in the co-main event against Daniel Cormier (13-0), who many are tipping to be LHW champion sooner rather than later.
So what lead to a fighter with just 4 fights to his name being slotted into a co-main event with one of the top rated fighters in the world? Well an injury and a backstory. Rashad Evans was the unfortunate one to suffer the injury forcing him out of the fight with Cormier. The backstory…well Cummins made Cormier cry in wrestling training one time, that alone is what seemed to have Dana White sold and that has been the selling point of this whole affair. Promoters magic…
The guys over at MMAFighting.com conducted an interview with Cummins explaining his story in wrestling & MMA, how he made Cormier cry and the events leading up to his signing for the fight.