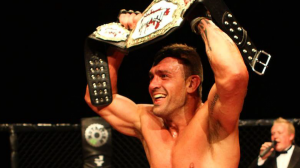 Pain Pit – Vendetta, Saturday August 31st Newport Centre
Today's trip and I was off to Newport in Wales.  They call it the land of  God, personally I begrudge paying £6.20 every time I drive across the seven bridge to get into Wales but that is a whole new debate for another day.  Today it was Pain Pit Vendetta at The Newport Centre, with a Light Heavyweight Title Fight headlining the card.
Heading into the event I'm greeted by Richard 'shaky' Shore and Colin Mould and take to my usual seat before I go around and say my hello's to everyone.
Amateur Level 3 (No Headshots) (2×3 mins)
James Davies (Daves Gym)  2-0     v      Adam Wells (Tillery Combat)  Debut
Rnd 1  Wells straight in and gains the takedown with great grappling display with Wells adding in some knees, but the action does not stay on the ground for long. Davies  is using the cage well, coming back with his own knees and punches.
Rnd 2 Davies comes out and throws a kick but Wells catches it. Wells attempts a guillotine choke but to no avail, the action goes to ground. Davies showing a great display of grappling and trying to gain several submission moves but is unsuccessful.
Winner by Majority Decision – James Davies
Terence Nelson (NMMA)  Debut      v      Jamie Rees (Tillery Combat) 1-0-1
Rnd 1 Rees comes out really fast, trying to get the takedown but it's Nelson who pulls guard to takedown Rees in this opening round, with both guys trying to figure out a submission.  Both corners are shouting instructions to their fighters only for the sound of the end of round 1.
Rnd 2 Rees rushes in and gets the takedown.  Nelson is working well despite being on his back, all the while Rees keeping busy in top position, listening to his corner well.
Winner by UD Jamie Rees
Dan Reardon (Vendetta) 2-0      v          Sammy Ashim (Daves Gym)  0-1-1
Rnd 1  Reardon shows no sign of respect as Ashim goes to touch gloves. Ashim straight in with kicks to Readon's leg which are landing beautifully. Ashim attempts a standing guillotine but to no avail, and Reardon comes straight back with his own kicks to Ashim's leg.
Rnd 2 Ashim straight in with leg kicks and attempts another standing guillotine, which Reardon escapes.  It goes to the floor where it appears Reardon is more comfy, although Ashim has Reardon working from his back.
Winner by UD Sammy Ashim
Thomas Karpinski (Tillery Comabt)  Debut     v       Tom Bond (NMMA)  Debut
Rnd 1 Bond gains the takedown, Karpinski keeping busy on bottom.  Bond working hard to gain a sub and makes a small mistake which Karpinski capitalizes on and gets top position, dishing out a few blows just before the end of Round 1.
Rnd 2 Bond has Karpinski backed against the cage but Karpinski is having none of it, working hard for a submission but to no avail. Bond manages to get the fight back to the middle of the cage with all to play for.
Winner by UD Tom Bond
Amateur Level 2 (Head Shots Standing Only)  (3x3mins)
Eliot Chilcott (Daves Gym) 1-0     v       Jamie Law (Tillery Combat)  1-1
Rnd 1 Both guys come out fierce with Law getting the takedown. Law working hard to try and gain a submission in the The North/South position but Chilcott working well off his back.
Rnd 2 Chilcott comes out with a failed superman punch attempt, in which Law manages to get the takedown and is in The North/South position again trying to gain a submission, but Chilcott is working well of his back.
Rnd 3 Both guys come out as in round 1 & 2.  Law is in a more dominant top position in this round, firing off body shots, even when standing. With Chilcott on his back against the cage, Law is raining bodyshots on Chilcott in the closing seconds of this right in front of me.
Winner by UD Jamie Law 
Vidmantas Baleisk  (Daves Gym)     Debut   v     Jason Jenkins (Falcons)   4-2
Rnd 1  Jenkins comes out with a spinning hook kick and a failed superman punch which Baleisk blocked. Baleisk gets the takedown and Jenkins is now having to work hard for a submission attempt.  He can see that Baleisk has his arm out and is there for the taking; he slams him whilst taking the arm.
Taunts from the crowd shouting 'easy, easy,easy' as Jason is a fan favourite here at Pain pit, although it was far from easy, he did have to work very hard for that submission.
Winner by Submission – Triangle Choke 1.37 Rnd 1  Jason Jenkins
Unified Amateur (3x3mins)
Sean Owens (Chris Rees)  2-0        v         Ben Phillips (Tillery Combat)  3-7
Rnd 1 Both guys come out looking for a stand up war and this is what we have from the word go. Owens gets Phillips against the cage, opens up with a flurry of shots, Phillips takes the shots and gets a brief takedown. It's back to standing as this seems to be a toe to toe war, each of them trading punch for punch and kicks alike.
Rnd 2 Phillips straight in with a takedown albeit briefly, as it is again back to standing, you can tell this is where both guys want this fight to be.  Standing toe to toe, Owens comes in with a brutal head kick that lands so cleanly, Phillips is not only KO'd but his head's split open too, as the action happened right in front of me!
Winner by Brutual KO 1.49 Rnd 2  Sean Owens   #My KO of The Night 
Jay Thomas (3DMMA)  1-3-0        v         Nick Allsop (Chris Rees)  3-1-0
Rnd 1 Thomas gets the takedown briefly and you can see that both these guys mean business, trading punches in the centre of the cage and not moving away from one another.  It is another toe to toe battle, with neither one of them really using their legs, it is a pure boxing, toe to toe war.
Rnd 2 Thomas appears to be picking more of his shots in the opening of this round and landing more effectively and cleanly.  This is not deterring Allsop one bit as he is standing there and trading with Thomas all the way.  Allsop is pushing the pace as much as Thomas with neither guy backing down.
Rnd 3 Both guys are looking wary in this final round.  Nothing like the first two rounds we have seen, both seeming cautious to throw the first punch. Thomas seems to be the more dominant one as Allsop looks like he is not engaging, then in a turn of events that can only happen in this sport where you have one fighter that is dominating, Allsop KO's Thomas.
Winner by KO Rnd 3 2.20 sec  Nick Allsop  #My Fight of the Night 
Nathan Morgan (Chris Rees) 4-2       v     Nathan Ford (NMMA)  3-0-1
Rnd 1 Both fighters come out with a sense of urgency, Morgan gets the takedown and both guys are working hard to try and gain a submission but to no avail.  It gets back to their feet and Morgan manages to get another takedown.
Rnd2 Ford straight in and gets a takedown briefly.  Back to standing and working well off the cage. Ford gains another takedown and is very dominant, although Morgan manages to get back to standing and gets Ford against the cage in the closing seconds of the second round.
Rnd 3 Ford comes in with a right that connects well. He is also using his knees in this third round and gets a takedown, working hard for a submission attempt but Morgan manages to get back to his feet.  Ford bulldozes Morgan against the cage and there he gains another takedown, which was a great display of ground work.
Winner by UD Nathan Ford
James Wallis (KGB)  1-2       v     Paul Grey (Brotherhood MMA)  3-0
Rnd 1 Wallis straight in with leg kicks. Grey attempts his own kick only for Wallis to catch it and get Grey to the ground, with very little action. Referee Mark Woodard stands both fighters back up.  Grey attempts another leg kick again but it is caught by Wallis, only this time it takes Wallis a few more attempts of his own leg kicks to sweep Grey of his feet, taking the fight to the ground. Wallis catches Grey with a nice clean punch.
Rnd 2 Wallis gets the takedown and is working well in top position as the action is against the cage. Grey manages to sweep Wallis over and gain top position briefly (the atmosphere in here has gone up a notch for Paul Grey). Wallis gains top position albeit briefly as the action goes back to standing, where Wallis goes in to chop Grey's legs once again.
Rnd 3 Both guys are keeping this standing but it is a clear dominating performance from Wallis as he lands a clean right hand that connects well. Grey just cannot seem to find his inner strength to land the power shots and let them hands go. Wallis still landing those chopping kicks to Grey's leg.
Winner by UD James Wallis
I would like to add fora  man of Paul Grey's age and athleticism he is a true inspiration to anyone who wants to take up this sport.  He may have been out of competitive action for 3 years but I know tonight was just a little blip and he will be back to winning ways very soon.
PRO 3x5mins
Nick Tuckett  (Dragonslair)  Debut     v     Ryan Marshall (Tillery Combat)  Debut
As Ryan Marshall's entrance music begins to play, which also happens to be a mix of Eminem's  Business,  the whole Leisure Centre erupts chanting 'Marshall, Marshall, Marshall, Marshall'. It's safe to say that Ryan is a crowd favourite here at Pain Pit.
Rnd 1 Marshall is straight in with a 1, 2 combination followed by several leg kicks, but then gets caught by a 1,2 of Tuckett's and even a knee, but this does not bother Marshall. Marshall throws a leg kick only for Tuckett to catch which forces Marshall down to the ground with a huge Tuckett on top of him. Tuckett trying to rain some elbows but clearly missing as Marshall is moving from side to side to work up to a position to get the fight back to standing, and succeeds.  The crowd goes mental as Marshall takes the fight back to standing, landing several leg kicks but more so of his boxing skills, out striking Tuckett in this opening round.
Rnd 2 Both guys come out punching, but having been out boxed in the opening round Tuckett's only option would be to take this to the ground, which he does and gets the takedown, laying on top of Marshall trying to find a submission. Marshall is not one to give up that easy.  The crowd are shouting 'Marshall, Marshall,Marshall,Marshall'  as Tuckett has Marshall's back and is looking to flatten him out, but Marshall is resilient and turtle ups and manages to turn Tuckett against the cage. Tuckett not letting go has Marshall in a near RNC, again the crowd are roaring 'Marshall, Marshall,Marshall, Marshall'. Tuckett gets the advantage, with Marshall now on his back where Tuckett starts to rain some short elbows and punches from which Marshall is trying to answer back and clearly defending (the action is unfolding right in front of me), but referee Mark Woodard decides he has seen enough and calls a halt to the fight!
Winner by TKO  3.31  Rnd 2 Nick Tuckett
Tylor Thomas  (3DMMA)  Debut        v  Josh Reed (Tillery Combat)  Debut
Rnd 1  Reed straight in and gets the takedown, working hard and looking to gain the submission. Thomas manages to gain top position but is leaving his arm out and open with which he slams Reed. Reed can sense what Thomas is about to do, looking around the cage space as Thomas his arm out and open again, goes for another big slam. Reed capitalizes on this opportunity and gets the Armbar Submission that was there for the taking.
Winner by Armbar    4.38   Rnd 1  Josh Reed   #My Sub of the Night
 Main Event Light Heavyweight Title 
Steve Evans (Blaenavon VT)  1-4-1  v   Title Holder  Simas Norkus (Brotherhood MMA) 2-0
Rnd 1 Evans opens up with leg kicks and a nice body kick.  I can hear Norkus' corner shouting at him to loosen up.  Norkus gets Evans against the cage attempting a takedown, but Evans defends well.  Action is back to the centre of the cage with Evans being the dominator of the two. Norkus attempts another two takedowns but again Evans defends both well.
Rnd 2 Norkus relaxing a bit more, finding rhythm and range, now landing a shot which appears to have cut Evans. Evans is still moving the pace forward and looking lighter on the feet. Norkus seeming to look to pick shots with Evans, pushing forward with aggression in his kicks and heavy hands. Norkus comes back with a brief flurry of punches, but it is still Evans who is dominating this round.
Rnd 3 Evans straight in with a heavy right hand that lands cleanly. Norkus attempts a takedown but Evans' defence is spot on tonight.  There is brief action on the ground, much to Norkus deligh,t as this is where he is more comfortable, being the highly decorated wrestler he his, although Evans gets the fight back to standing. Norkus pushing the action against the cage and Evans takes the action back off against the cage, both guys are trading punches as the clappers go for the last 10 seconds of this title fight, giving it all they can now give.
Winner by UD and NEW Light Heavy Weight Pain Pit Title Holder Steve Evans 
I spoke with Steve Evans very briefly after his fight who quoted this:
" It was a hard fight, first time I have gone the distance. I caught him with a few good punches and he took them well. I was prepared for the fight to go on the ground so I worked on my defence and it went to plan. I am happy with it"
It was another great Pain Pit event, even though at the last count there were 11 pull outs and 3 the night before. Colin Mould and Richard 'Shaky' Shore really do believe in putting grass roots fighters first, no matter what the cost, and still managed to pull off 13 awesome fights.
Pain Pit Vendetta Full Results
Steve Evans Defeats Simas Norkus via UD *
*New Light Heavyweight Title Winner*
Josh Reed Defeats Tylor Thomas via Armbar 4.38 Rnd 1
Nick Tuckett Defeats Ryan Marshall Via TKO 3.31 Rnd 2
James Wallis Defeats Paul Grey Via UD
Nathan Ford Defeats Nathan Morgan Via UD
Nick Allsop Defeats Jay Thomas Via KO 2.20 Rnd 3
Sean Owens Defeats Ben Phillips Via KO 1.49 Rnd 2
Jason Jenkins Defeats Vidmantas Baleisk Via Triangle Choke 1.37 Rnd 1
Jamie Law Defeats Eliot Chilcot Via UD
Tom Bond Defeats Thomas Karpinski Via UD
Sammy Ashim Defeats Dan Reardon Via UD
Jamie Rees Defeats Terence Nelson Via UD
James Davies Defeats Adam Wells Via Majority Decision