Chi Lewis-Parry has his eye on becoming UK's first Heavyweight Champion within the OneFC promotion. Having had an offer to train at Jackson's MMA Gym in New Mexico through his friendship with Alistair Overeem is something only a handful of athletes could possibly dream about "Alistair has opened doors for me, we talk all the time, we have a really good relationship. He has now joined Jackson's MMA and that has opened the door that way for me, saying there is a place for me there, come out whenever you can get here. In addition, there is a wealth of training partners over there for me being a heavyweight with the likes of Travis Browne, Andre Arlovski and Light Heavyweight Jon Jones.  I feel I am in a very privileged position probably the best position for any UK Heavyweight has ever had with the calibre of people at my disposable to train with."
Of course,  as with anything in life, there is cost involved, those of us that have been around and in this sport for long enough, know that the money still is not there unfortunately; always 5 steps ahead, once Chi had received the offer he put up a status on his Facebook to see if there would be any interest in helping him fund his trip to Jackson's MMA. "With my last fight at OneFC not ending so well I didn't make any money from it so the finances set me back a bit. I wasn't just putting up the status to ask fund it or to get people to give me the money. I think the people that I have reached out to and the people that do follow me have an interest in what I am doing can rather relate to it. I am not a closed door, or unreadable book. I am very open with everyone. I do share everything that I am doing and I want people to relate to what I am doing and feel a part of what I'm doing. I work a 9-5 job just like everyone else the only thing that sets me apart is that I keep positive people around me which allows me to excel so I want people that want to help me to get where I am going to know that I am getting there with them in mind and not just saying F**k off now thanks for your finance".
With sponsorship being a big part of an athlete's life, for which, many people may not know, the word 'sponsorship' falls under many brackets, it is the traditional one that Chi seeks at this moment in time for financial backing to help pursue his goals to become the first UK Heavyweight at OneFC "Finanical Backing is imperative in this sport, as glamorous as it can appear there really is no money, promotions don't really pay top dollar for guys to lay there reputation, there heart on the line. There is no real money behind it, until you reach a top level, which I have been fortunate to reach. Money plays a big part especially if you have a family, you have bills to pay, to compete at this top level you need to be able to train whenever and where ever you want, I am sure everyone can relate, it's hard to train, it's hard to focus on training, to go back be a parent, husband, find time to relax, recoup, then do it all again 5/6 days a week, fortunately my partner has been picking up the slack looking after our son, working part time, allowing me to focus on what im doing on over here"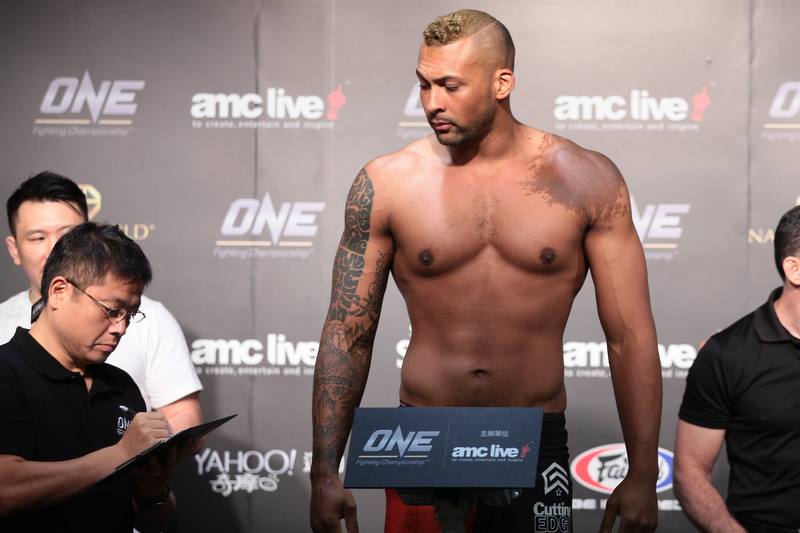 We briefly got to see  Lewis-Parry make his debut for OneFc on May 30th against Alain Ngalani which unfortunately resulted in a No Contest due to an accidental groin shot from the Brit, to say it must have been a disappointing way for the fight to end is an understatement. "Having studied the heavyweight division beforehand I just knew a long time before that fight was announced I would be facing Ngalani, so I expected it which I got. It was all the preparation that went along with that bout, it's not just turn up to the gym, do weights, sprints, cardio, drills there is a lot of big mental preparation to go with it. I spent every day thinking about this guy. Every way I can win, loose, everyway the fight can go in my favour, everyway the fight can go against me, I visualize these things, I'm quite thorough. I visualize ,right up until the feeling of the mat on feet for the first time, to the energy of the crowd, the referee checking my body for parts for any objects, checking my shorts, making sure nothing is foreign to me when I get in there and everything goes to plan when I get in there – for it to stop in that way in a fight that was only 40 seconds, he was obviously hurt. I was very disappointed".
On July 11th we get to see the re-match of you and Alain Ngalani in Taipe, Taiwan. How were you feeling, knowing you got the re-match with Ngalani 'I wasn't sure I was going to get the re-match straight away, I thought I might have had to fight someone else before him, but I'm glad I've got it, it's happening, it is still fresh, he is still in there in the air I breathe and I still haven't got that monkey off my back so to speak, I need to put this one to bed so I can move on'. And obviously only sharing the octagon for only 40 seconds with Ngalani in your first meeting what if anything did you learn about him 'I noticed he was very strong, has a very orthodox clinch move' and will you have changed any of your game plan going into this re-match at all 'make sure my knee hits above the belt! He doesn't know what I'm coming with; I'm still an unknown entity".
How do you go about preparing for an athlete of Ngalani's calibre 'you cannot find people like him every single day, he is unqiue, you can't find people built like him or move like him, he's a unquie human being that's if you can call him human, he looks fantastic, hes supple, he kicks hard, he's 39 he's peaking as he gets older, you can't really emulate him. You can drill something a 1000 times, but when you get to fight, it doesn't happen, I know what he likes to throw, I know it's about reading him, I know when he likes to throw it , it is about reading him before he likes to throw it, I picked it up from Alistair, I'm sure Ngalani dosen't hit as hard as Alistair, I take comfort in knowing I can take a kicking from Alistair'.
What 'explosions' are we going to see this time round "Always expecting an explosive fight. I'm not a jump from the gate and start sprinting person, I'm more composed. I don't really have a formula but quoting what conor mcgregor said "it's a fight, what happens, happens" it's a sport, I can work mount escapes for 6 months and get into the fight and get nothing, work everything, play towards making his strengths his weakness and see how it goes".
You can follow chi on Twitter https://twitter.com/ThebossmanCLP
Facebook https://www.facebook.com/chi.lewisparry
Website http://chilewisparry.co.uk/
Photo Credits: Danny Brennan/ONEFC
Photo Credits: The Fight Nations