I got to speak with Irish MMA legends Rodney Moore and Colin Robinson this week who both have fights this weekend at UXC II on Saturday night in the Odyssey Arena, Belfast. The venue has hosted the UFC on their last visit to Northern Ireland.
Rodney Moore faces UKMMA veteran and celebrity Alex Reid, while Robinson has the pleasure of fighting former Pride fight and gigantic heavyweight James Thompson. Both Moore and Robinson are teammates and coaches in the IMMA/Nxt Gen NI gym in Ballymena and are coming into this fight with nearly ten people from their gym fighting on the same card.

First up: Colin "Big C" Robinson
You won your last fight and snapped a skid. Has this win reinvigorated you or did the previous results have a negative effect on you and your approach to MMA?
Yes it has definitely reinvigorated me but I have always been confident in both my ability and my team. Sometimes you just need to believe and the performances will come.
Both you and Thompson have been around the scene for a long time now. Is this the first time this fight has ever been talked about?
No it was mentioned a couple of years ago but James had 2 settle a score with Pudzianowski.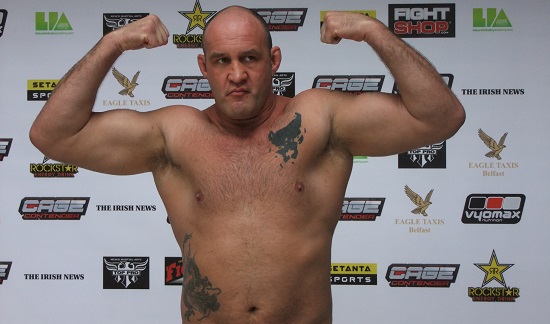 He hasn't fought in nearly two years, do you feel ring rust will be an issue for him?
Although he hasn't fought he has been active in the gym and I expect him to have a whole new arsenal of tools but hey… Bring it on!
What do you feel are his strengths and weaknesses?
His strengths are his wrestling, his heart and his physical strength. His weaknesses are his lack of speed and he is easy to hit
Rodney Moore has stated that this will be his last fight. Have you considered when you might step away from competitive action?
I might retire some day but I thought people were supposed to retire at 65? No? Haha. I just want to thank Extreme Nutrition and Chillipepper tattoos for the support they have given me throughout my training.

Next up Rodney Moore:
How are you feeling ahead of the fight?
I'm feeling great man, Training had been top notch with having x8 on the card, so really looking forward to Saturday night.
Some people doubt Reid as a fighter saying he "is past it" or is "just a celebrity". What do you make of Reid as a fighter and his celebrity status?
Alex us still a tough nut, his celebrity status kinda took him away from what he loved doing, but when the going got tough again he always went back to his martial art roots. He has fought & beat some of the worlds best & isn't to be over looked or taken lightly.
You have a lot of fighters fighting on the card. How have you managed to train and guide the guys while also training for your fight?
Yeah there's 8 of us on the card now, try moving house in the middle of it all too lol… It's been great, everybody just works together pushing each other to the max, while also helping each other too. Big Colin gives a great help, he's the papa of the gym, everybody's dad lol…
Some people have said negative things about UXC. You were at their first event and have, obviously, been constantly in touch with them for this event. What has been your impression of the promotion thus far?
Yeah there's been quite a lot of negativity towards the UXC promotion, which is not fair at all, but I think that stems from one of the first promoters they had on board, basically he took everybody for a sale & nearly ruined the promotion right from the get-go…
So UXC were against the wall right from the start but they have been working like mad behind the scenes to make this event happen & instead of the MMA community helping & supporting it they'd rather bitch & spread rumours to try & make the show fold. So hats off to Decky Larkin, Peter Rollo, James Gallagher & the rest of the UXC team for sticking by your guns & making this shit happen..!!
Have you any outlandish moves in the arsenal we should watch out for in this fight?
Lol… Of coarse man, my little book of secret ninja moves is gonna wreck some confusion & havoc..!!
Sorry to hear the fight getting changed to a k1 bout recently…
Yeah, changed to pro k1 rules! Doesn't bother me man, still gonna beat the rib cage off him lol….
Being this is your last fight, what would be the perfect way for it to end? Would you like a war going the distance or a quick highlight finish?
I would love an epic war. Guns blazing the whole way 😉 can't wait lol…