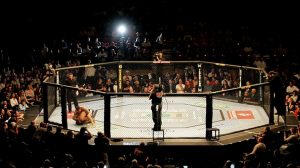 Floyd Mayweather Jr. Interested in Promoting MMA Fighters
Ever since the surge in popularity for MMA, the arguments between staunch fans of the sport and boxing purists seem to never dwindle. There have been many popular boxers and boxing personalities who have taken shots at MMA – one of them being Floyd Mayweather Jr. But it seems that he has changed his tune regarding MMA.
In an interview with Fight Hype TV yesterday, Floyd Mayweather revealed that he is interested in promoting mixed martial arts fighters. Mayweather, who has gone public with his distaste for MMA in the past, has completely flipped his stance on the sport.
"I want to promote MMA fighters also. We lookin' to promote MMA fighters, so it's the first time you're hearing it on FightHype," said the pound for pound champion. "You know, Al Haymon is looking to manage MMA fighters. Even though Al Haymon hasn't come on record and said it, but I want Al to manage MMA fighters. I think I can take it to the next level."
Al Haymon is one of the most influential boxing advisors/managers around; he has close-ties with the likes of Danny Garcia, Adrien Broner, Andre Berto, and of course, Floyd Mayweather. If Haymon and Floyd were to dive into the sport, one might think of the possible effects it could have on the it's landscape.
Floyd Mayweather Jr. is not only the pound for pound king in boxing; he is the pound for pound pay-per-view king. It's inevitable that the issue fighter pay will resurface. While it's not likely that any mixed martial arts fighter, in foreseeable future, will make anything close to the guaranteed $41.5 million that Mayweather earned for his decision win over Saul Alvarez last weekend – could Mayweather help some fighters make the kind of money that they have been asking for?
In the same interview, Floyd spoke of his relationship with UFC president Dana White, stating that he wouldn't mind doing business with the UFC boss. "You know, I don't mind doing business with Dana White." He said. "Dana White's a cool guy. I've been knowing Dana before he got involved with the MMA."
If Mayweather does try his hand in promoting MMA, it will be interesting to see if he and White do come to a promotional agreement. White has stated that he wouldn't cross-promote the UFC brand with other promoters. This was evident during the 'Fedor Saga' when M-1 demanded cross-promotion with the UFC for Fedor Emelianenko's services, a contractual agreement which was one of the major reasons that Fedor never signed with the promotion.