Before the KO specialist Jimi Manuwa signed with the UFC  the mixed martial artist widely credited for  taking him into deep waters before he was finished via a devastating left hook was Luke 'Lightning' Blyth.  A capable striker himself Blyth's mishap has been immortalised in a YouTube snap shot that has so far garnered over one million views. There is no bad blood between the two combatants and as Manuwa readies himself for Alexander Gustafsson, the biggest test of his career, Luke Blyth is keen to share with me how he feels the fight, which takes place at the O2 arena on March 8th, will go down.
His recollection of their two round war still seems fresh in his mind as he talks me through  how it all played out. The detail with which Blyth is able to describe the punishing pressure he was put under is truly remarkable as we are several years removed from the bout. It's clear that, as with the best sportsmen, Blyth has a deeply found respect for his old adversary.
"He was the toughest opponent I've ever had. When we fought Manuwa hit like a a sledge hammer. It sapped my energy and believe me each shot  hurt. I had a game plan to take him into the later rounds and literally seconds before the end of the second he caught me with his trade mark left hook."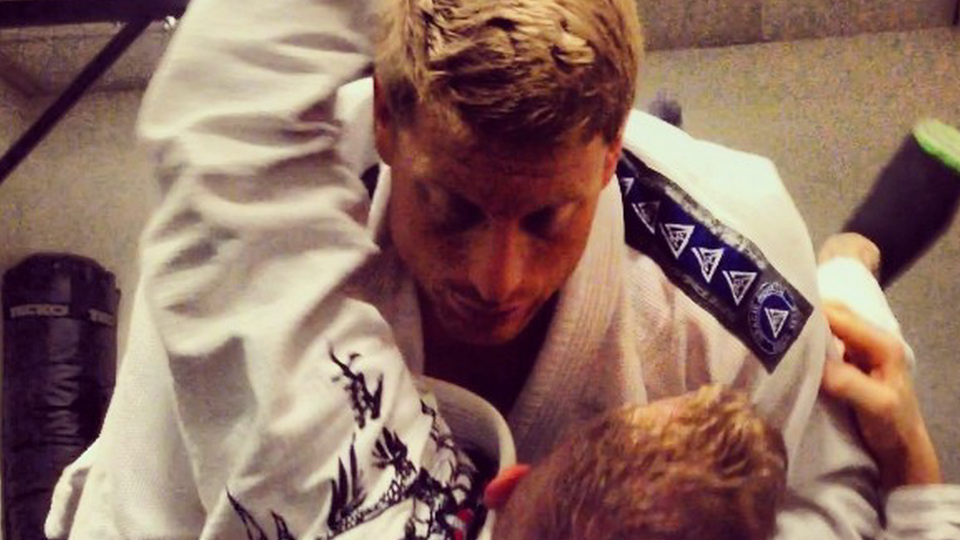 After his loss Blyth was invited to train with Manuwa and it was whilst doing so he was able to gain  further insights into both his ground game, striking ability and his attitude as an athlete.  "To be fair to him his ground game is alot better than people make out. I'm a purple belt under Daniel Burzotta and Royce Gracie and Jimi moves as well as anyone else I've rolled with. He's an absolute gentleman. After a fight you learn from these things. He had no attitude or beef with me so I was happy to train with him in order to see where my game could be improved."
As the discussion turns to what awaits Manuwa on 8th March and who will be the victor Blyth is equally resolute, "I definately see Jimi winning, I'm  100% positive on that, he will beat Gustafsson, he's destined to be a champion. He's like Mike Tyson, Jimi has just got that success factor about him. Alexander Gustafsson is going to be in trouble. Jimi will get more confident as the rounds go on. It will be a second round finish, Gustafsson is a tall rangy fighter  I see Alexander trying to move and pick him off.  I dont see Manuwa keeping him at range. I see him getting inside and hitting him with an uppercut. I'll put my money on a second round KO by Jimi.