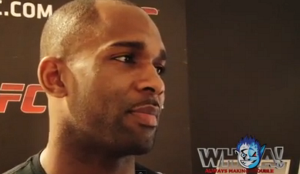 This Saturday night features a fight that will most probably end in fireworks. Ryan Jimmo (18-2) and Jimi Manuwa (13-0) are two men notorious for their knockouts.
Jimmo made his UFC debut with a 7-second knockout of Anthony Perosh last year at UFC 149 and Manuwa is an undefeated bruiser with 12 TKO's to his name.
Both fighters might feel they have something to prove to heading into this fight. Jimmo had high expectations heading into his last two fights with fans expecting a KO but instead received two somewhat lacklustre fights, one decision loss and one decision win.
Manuwa came into the UFC with a reputation of destroying opponents in the cage, something he had been doing on the UK scene since turning pro in 2008. The "Poster Boy" has won his first two fights in the octagon, both going down on record as TKO wins. But when you look closer at them they were stopped by a doctor and by a fighter retiring. Manuwa, although dominating and destroying both Kyle Kingsbury and Cyrille Diabate, yet to get that clean stoppage in the UFC, something we have all been yearning for.
We caught up with both fighters ahead of their fight this Saturday in the Phones 4U Arena in Manchester, England.