"The Punk" Josh Thomson (20-6, 1 NC) tweeted the mother of all callouts this morning and it was aimed at Nick Diaz (26-9, 1 NC). Below is what Thomson tweeted: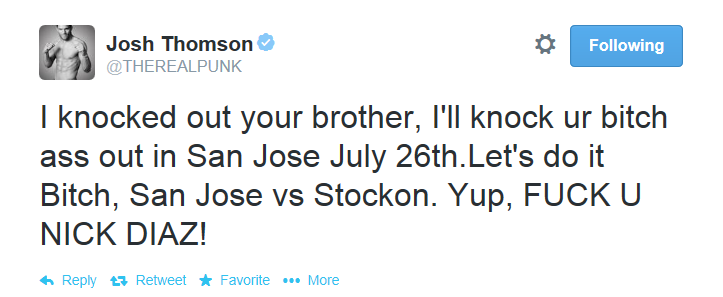 Thompson defeated Nick's brother Nate with a headkick KO when they fought at UFC on FOX in April of last year. 35-year-old Thomson has fought at lightweight all of his career but now it seems he is looking to step up to welterweight to fight Diaz, who took an indefinite leave from MMA since the summer of 2013.
There has been a number of fights rumoured to happen in order to bring Diaz back from his self-imposed exile but none have came to fruition. With the manner of this callout from Thomson, this could may very well be the fight that brings Diaz back.
Thomson has a long history with that camp. Apart from beating Nate last year, he also fought Gilbert Melendez in a trilogy of championship fights in Strikeforce, losing out 2-1 between 2008 and 2012.
— Update —
Thompson posted a number of Tweets shortly after the initial message to Diaz. He said that his phone was stolen, and that he wouldn't disrespect anyone like that, especially the Diaz brothers.
(Updated: May 4th, 2014 – 8:25p.m)